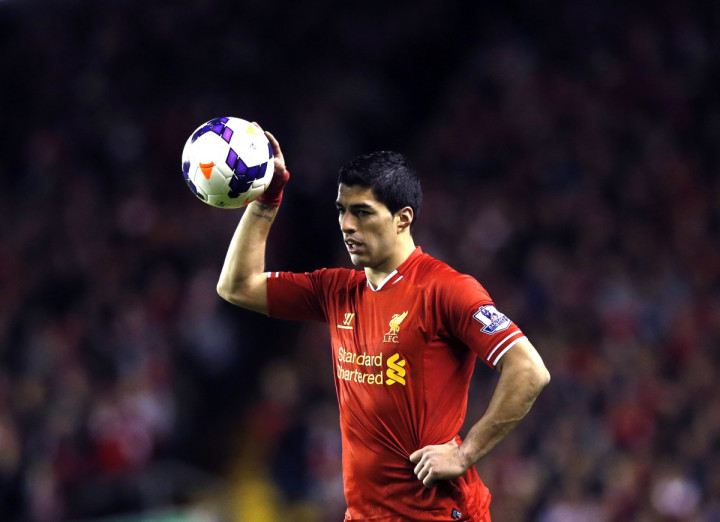 Luis Suarez has claimed at least one Chelsea player was uncomfortable with Jose Mourinho's time-wasting tactics in the game last season that saw Liverpool's Premier League title hopes dealt a decisive blow.
In his new autobiography, Crossing The Line, Suarez, who left the Reds to join Barcelona for £65m in the summer, recalls Chelsea's 2-0 win on Merseyside and the frustration Mourinho's "parking the bus" routine caused on a group of Liverpool players who had begun to think the title was theirs.
While the Uruguay international does not begrudge Chelsea's tactical approach on the day, he was left infuriated with their efforts to run down the clock throughout the game, an approach one Chelsea player allegedly felt he had to embrace in order to retain his place in the starting line-up.
"Every coach plays the way that suits him, so I don't mind that," Suarez wrote, the Guardian report. "The only thing I didn't like was the way that they wasted time from the very start.
"I was asking myself: 'Why are they doing this from the first minute?' I even asked one of their players. 'What do you want me to do if he [Mourinho] makes us play like this, I have to play like this' he replied. 'What else can I do? If I don't, I won't play. What would you do?'"
That game last April will forever be remembered for Steven Gerrard's untimely slip that allows Blues striker Demba Ba to race on to the loose ball and open the scoring for his side.
Liverpool would go on to surrender a 3-0 goal lead at Crystal Palace in their next fixture to draw 3-3 as their hopes of a first league title in 25 years came to an end. But Suarez suggests some members of the Reds' dressing room, including himself, were already convinced the Premier League trophy would be coming to Anfield.
He said: "We had gone into the game knowing that a draw was good for us. With the atmosphere at Anfield, with the fact that we had just beaten [Manchester] City, our attitude remained the same: we wanted to win.
"But we were conscious of the fact that with a draw we were still ahead of everyone. What I didn't expect was for them to play for the draw. It's true that they won the game but I am convinced that without that stroke of luck, they would not have scored.
"We knew that some of the normal [Chelsea] starters weren't going to play, but we also knew that if they wanted to win the league – and people forget that they still had a chance to do that – they would have to play to win. For them to try to waste time when the draw was no good to them was something that I didn't understand."