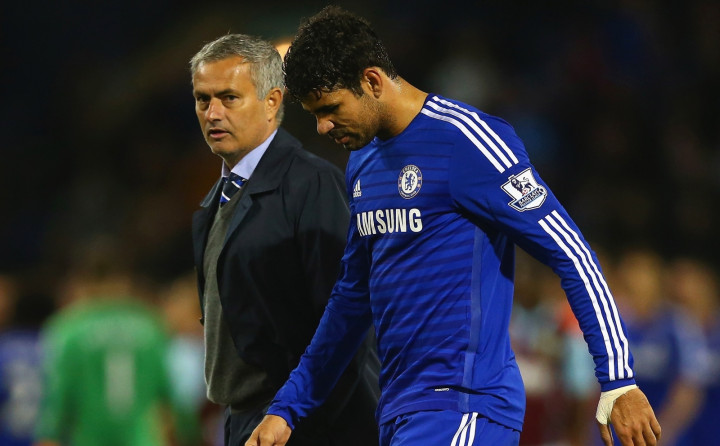 Chelsea manager Jose Mourinho has taken another thinly veiled swipe at Spain manager Vicente del Bosque after claiming national associations are "selfish" regarding the treatment of players during international breaks.
Diego Costa, who played in both of Spain's recent European Champions qualifiers despite Mourinho expressing concerns over his fitness, missed the Premier League win over Crystal Palace with a hamstring injury and will be absent for the Champions League visit of Maribor.
Mourinho has been forced to manage Costa's fitness throughout the season after the striker suffered from hamstring problems during the back-end of last term but with Spain seemingly ignoring this advice, the Chelsea manager has been heavily critical of their stance.
And the Portuguese boss said national associations were consistently ignoring requests from clubs and revealed only England manager Roy Hodgson personally contacts him regarding the fitness of Chelsea players.
"It's up to them, to take care of players, or be selfish," the Chelsea boss said ahead of the Champions League group game against Maribor. "I don't tell players not to [with their national teams]. I stimulate players to go - I like players to go.
"We like our players to succeed in national teams and play in big competitions, like the European Championships and World Cup, so we are always positive about our players to go.
"Sometimes you have national coaches and medical departments that want to establish a relationship and they are interested in the players, their physical condition, their habits.
"Some others they simply don't care. This is not something we can resolve. I cannot ring the federations and say I want to speak to the coach, or the doctor wants to speak to their doctor. It's something I cannot resolve.
"I had in my career others in permanent contact. I have others where, year after year, I don't have a single SMS or phone call.
"From our point of view, we will keep our way of thinking or feel for the national teams. Players should be proud to play for national teams."