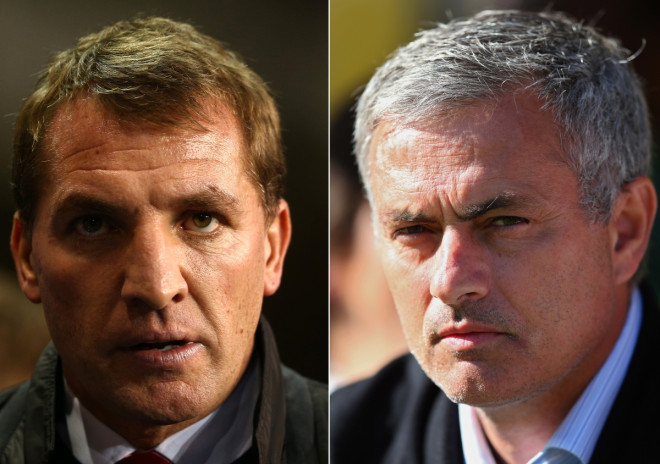 Both Jose Mourinho and Manuel Pellegrini were quick to dismiss suggestions their sides are title favourites after both Chelsea and Manchester City thrust themselves back into contention for the Premier League crown.
The Blues ended Liverpool's 11 match winning streak with a 2-0 victory at Anfield on Sunday to bring themselves within two points of the league leaders with just two games remaining.
City's hopes of a second Premier League crown were also revived by the result on Merseyside which inspired them to a comfortable 2-0 win over Crystal Palace to move them within three points of top spot. Should Pellegrini's side win their remaining three games of the season and maintain their superior goal difference over their rivals then they will be crowned champions.
But although his side hold their fate in their own hands, the City boss insists no one can be considered favourites for the title.
"I repeat, in football we are not favourites," Pellegrini told Sky Sports after goals from Edin Dzeko and Yaya Toure sealed a win at Selhurst Park. "Liverpool are three points ahead of our team. With so few differences in points, I think nobody is the favourite."
Maintaining a stance he has held all season, Mourinho believes his side are still outsiders for a league triumph despite halting Liverpool's title charge.
"We are back in nothing. At this moment we are almost third," he said after his side's win. "With Everton's defeat (a 2-0 loss to Southampton on Saturday) we were automatically qualified for the Champions League.
"Now with these three points we need one point to finish third. Champions are only one (team) and the champions will be City or Liverpool."
City's biggest test of their title credentials will come next weekend when they visit Goodison Park where Everton has already claimed victories over Chelsea, Arsenal and Manchester United this season. They play their remaining game in hand five days before the final weekend of the season at home to Aston Villa before hosting West Ham United.
Liverpool take on Crystal Palace – who have claimed wins over both Chelsea and Everton in recent weeks – on bank holiday Monday before ending their season at home to Newcastle United. Chelsea face a Champions League semi-final second leg clash with Atletico Madrid before resuming their domestic campaign against relegation candidates Norwich City and Cardiff City.