Chelsea and Manchester United boosted as Real Madrid 'identify' Kepa as new No.1 goalkeepeing target
Athletic Club Bilbao keeper will be a free-agent at the end of the current season.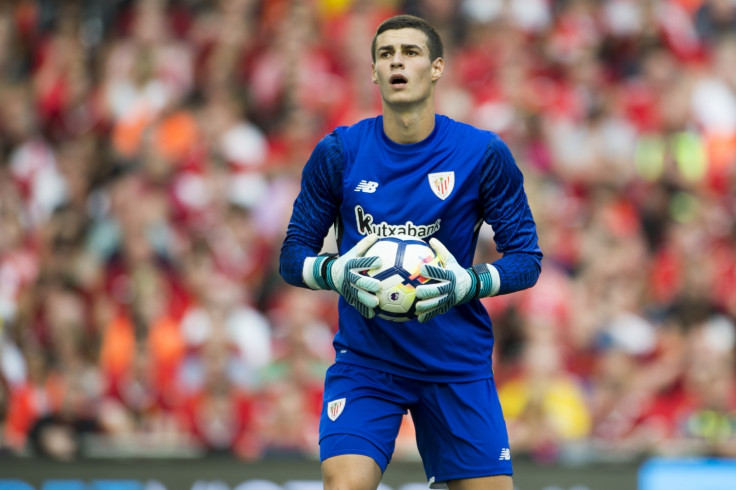 Chelsea and Manchester United have received a big boost in their hopes of keeping Thibaut Courtois and David De Gea with reports in Spain claiming that Real Madrid have identified Athletic Club Bilbao's Kepa Arrizabalaga as their new number one target to bolster the goalkeeping position.
The Champions League winners have been heavily linked with the Blues and United stoppers since club legend Iker Casillas joined Porto in the summer of 2015.
Last week Marca said that Real were still monitoring the situation of both 'keepers with Keylor Navas turning 31 in December.
The Spanish publication added that 25-year-old Courtois had thus decided to put his contract talks with Chelsea on hold as the former Atletico Madrid keeper was awaiting a call from Real to return to La Liga.
In June, Courtois' agent Christophe Henrotay revealed that Madrid were still tracking his client ahead of a potential future move to the Bernabeu.
"Of course Thibaut is of interest to the big clubs, including the last Champions League winners," Henrotay told Belgium's Sport Magazine. "He is someone who helps you makes you win games and titles. I regularly meet the directors of Real Madrid and of course, Thibaut's case has come up. It is my role to keep him updated on the situation."
However, Marca now claim that Real are ready to turn their attention to Kepa with the Athletic Club number one having emerged as Zidane's new priority goalkeeping target ahead of the 2018-2019 campaign.
In recent years president Florentino Perez has signed the likes of Marco Asensio, Dani Ceballos, Jesus Vallejo and Isco in an attempt to retain a Spanish-dominated squad.
Marca believes that Kepa could follow in their footsteps with the 23-year-old regarded as one of the most promising keepers around Europe.
The Athletic custodian was part of the Spain squad who lost in the Under-21 European Championship final to Germany in the summer and is an established presence in Julen Lopetegui's squad ahead of the World Cup 2018, being the third choice behind United's De Gea and Napoli's Pepe Reina.
Furthermore, Kepa could join Real Madrid as a free-agent as his current contract at Athletic is due to expire at the end of the current season.
The Basque side have been trying to tie him to a new deal for some time but Marca says that Kepa has so far turned down their proposal as the club want to include a €75m release clause as part of the renewal.
Zidane believes that Kepa would be the perfect fit to compete with Navas next season and eventually become the long-term number one at Real Madrid.
Marca say that Los Blancos hope Kepa will snub a new deal at Athletic and join them as a free-agent in the summer. Yet, the Spanish publication claims that Real Madrid could even considering paying a small compensation fee to maintain the good relationships with the Basque side.