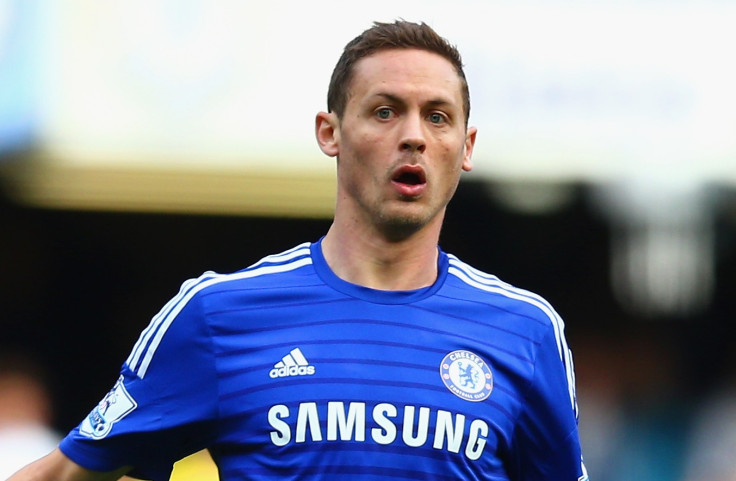 Chelsea midfielder Nemanja Matic is facing the prospect of sitting out the Blues' League Cup final against Tottenham despite the club appealing the red card he received against Burnley.
According to the Mirror, the Serbian midfielder, who was given a straight red for reacting to a tackle from Clarets striker Ashley Barnes, will miss at least a minimum of one match even if the appeal is successful.
The former Benfica midfielder was sent off for violent conduct and the normal punishment for such an infringement is a three-game ban, but the report claims that Chelsea have appealed the red card on the grounds of excessive punishment rather than wrongful dismissal.
If the club fails the appeal, the midfielder could be banned for four matches instead of three. That will be a big blow as apart from the Capital One Cup final, Chelsea have crucial Premier League clashes against West Ham United and Southampton coming up in the following weeks.
The Stamford Bridge outfit was incensed after referee Martin Atkinson admitted that he saw the tackle from Barnes on Matic, which led to the forward being cleared of any wrong doing.
If Chelsea's appeal is successful, the ban on the midfielder could be reduced from a three-game ban to a single game ban, which means he will still miss the Capital One Cup final, but will be free to play against West Ham and top four contenders Southampton.
Jose Mourinho has criticised the Clarets front man and deemed his tackle 'criminal' and one that could have ended the midfielder's career.
However, Burnley manager Sean Dyche has come out and defended his player over his tackle and believes that it was his follow through that caught Matic.
"Ashley Barnes tries to play the ball to Dave Jones. His momentum and pendulum motion of his leg swings up through the ball and unfortunately Matic is late arriving on the scene - not in a vicious way," Dyche said, as quoted by the BBC.
"Please everyone look at the reaction from a bunch of expert footballers on the Chelsea side, like John Terry - a real warrior - and Kurt Zouma, big strong boys, and Branislav Ivanovic."
"They are right on top of this one, Jose Mourinho had a similar view to me and the crowd. In live time no-one reacts, apart from Matic," the Clarets boss explained.