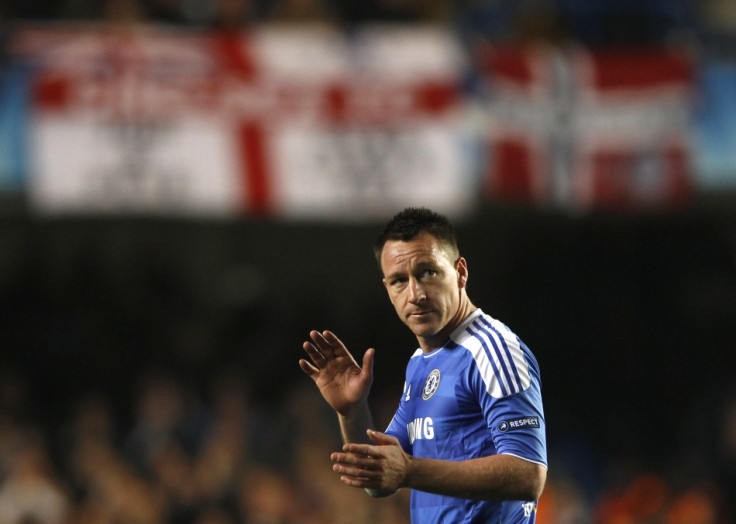 Chelsea captain John Terry has been slapped with an additional two-match Champions League suspension for the red card he received during the Blues' clash with Barcelona in the semi-final (second leg) of the European competition, according to an ESPN report.
The 31 year old defender, who was shown a straight red for kneeing Barcelona forward Alexis Sanchez, missed the final against Bayern Munich and had to watch from the stands as his club won their first ever Champions league title.
It now appears UEFA has decided to charge Terry with a three match ban rather than the one game ban that comes automatically with the red card. The former England captain has already served one of those three games - the final against Bayern Munich - and is now set to miss both the European Super Cup tie against Europa League winners Atletico Madrid and the first game of the group stages for next season.
"The UEFA Control and Disciplinary Body has suspended Chelsea FC player John Terry for three UEFA club competition matches. As the player did not participate in the subsequent final against Bayern Munich on May 19, he has already served one match of his suspension," read a statement on UEFA's official web site.
"The remaining two games shall apply to the player's next two UEFA club competition matches for which he would be eligible. An appeal may be lodged against this decision within three days of the dispatch of the reasoned decision," continued the statement.
Meanwhile, Chelsea striker Romelu Lukaku said he felt no joy or satisfaction when the Blues won the FA Cup and Champions League last season because he did not feature in either competition. The 19 year old Belgian, who transferred to Chelsea from Anderlecht in August, started just four games this season.
"I don't like people talking to me about the Champions League. It wasn't me, but my team that won," BBC reported Lukaku as saying, and adding, "When [Salomon] Kalou put the cup on my lap in the bus I asked him to take it away immediately. I didn't want to touch it because I had no part in it at all."
The youngster added he did not understand why Chelsea had invested so much money in him and not play him.
"Chelsea really wanted me last summer and paid a lot for me but after a while I thought, are you just throwing money around?" he told Sky Sports. The Belgian said he would have discussions with Chelsea's new manager before deciding on his future at Stamford Bridge.
"During the conversation with the manager I will see whether he's serious about me or not. If not, I will go away on loan. I have to play," he said, according to the Independent.