Chelsea are ready to allow striker Diego Costa to leave the club in the summer transfer window, but his destination is unlikely to be the Chinese Super League. In an effort to curb the spate of spending which has dominated the January transfer window, clubs from China have been warned they will be prohibited from fielding more than three overseas players in matches, reduced from four from the previous campaign.
The rule change will directly influence the future of the Blues' Spanish striker, who was dropped from the squad which beat Leicester City in the Premier League after falling out with manager Antonio Conte and a member of his coaching staff. The Evening Standard understood that Tianjin Quanjian were plotting an £80m move for Costa, who has scored 14 goals in the English top flight this season – but the club has been forced to abandon plans to sign the hitman.
Newly promoted Quanjian, managed by Italy World Cup winner Fabio Cannavaro, already have four overseas players in their squad including Belgium international Axel Witsel; who joined from Zenit Saint Petersburg this month. Though the club are free to sign further players from outside China, they would be unable to guarantee new arrivals a place in the first eleven. Teams are also now required to include two home-grown players in every match day squad.
Owner Shu Yuhui has confirmed talks have taken place with Costa's agent Jorge Mendes but that the new regulations and Chelsea's unwillingness to sell in the January window – instead preferring to delay his exit until the summer – has thwarted their attempts to lure him to Asia as the next transfer window occurs mid-way through their domestic season. The billionaire added that offers were also submitted for Paris Saint Germain forward Edinson Cavani, Real Madrid's Karim Benzema, Benfica striker Raul Jimenez and Monaco top scorer Radamel Falcao before the rule change, which is thought to have come directly from the Chinese government.
"Our club had a massive investment plan for the new season but it was tightened up by the new rules," he told Tianjin Sports Channel, according to Sina Sports. "If [the rule] had been '4 +1' as in the past, then we would have made a big investment this year, but now it seems to be changed to three. This situation has brought a change to our signing plans.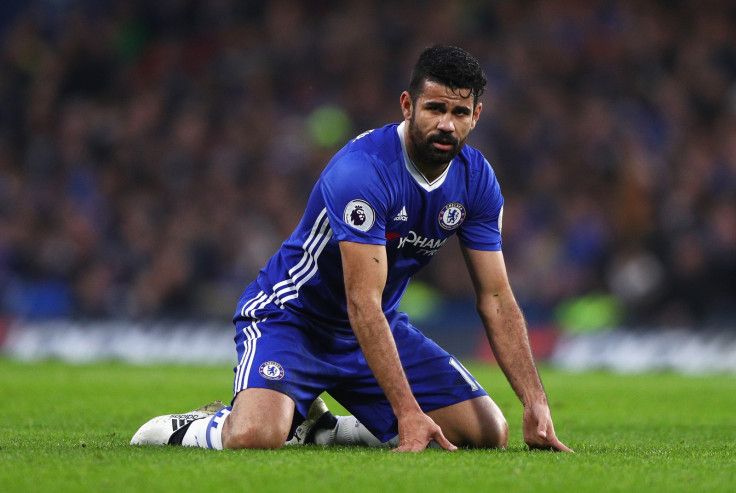 "We need an out-and-out striker so we made a bid for Benzema. As a matter of fact, the club had even prepared the contracts for Falcao and Raul Jimenez. We had already reached agreement with them on wages and bonus. The pair were expected to sign the contracts, but the new rules forced us to give up on them.
"The online reports about Costa, it's true we'd like him, and we made an offer for Cavani and were deep in negotiations. Mendes came to my home a few days ago and we also had ideas about Costa, but in the process were ready to sign two players, the contracts were done, the price was good – [Mendes clients] Falcao and Raul Jimenez.
"PSG told us Cavani would only be allowed to leave in June, even though the player himself was willing to join us. The same can be said for Costa because Chelsea would only let him leave in June. However, the new season of CSL will almost reach the halfway stage in June, we can't wait so long.
"We couldn't afford to wait half a season. We certainly want the best players to come to China but at the same time we have to respond to the relevant departments promoting this scientific and rational investment in football. We continue to wait and suffer, but at the end of the day we'll get someone. We have targeted a lot of strikers, and made an offer for Benzema, but with this policy change, we are very helpless."
The news follows reports from The Daily Telegraph which indicated that Conte was ready to re-integrate Costa into the Chelsea fold after failing to travel to the King Power Stadium for the game on Saturday [14 January]. The Italian coach claimed Costa was struggling with a back injury which forced him out of the 3-0 win over the reigning champions, but refused to confirm whether the decision had led to a training ground bust-up.
"I can't be concerned about this because today my players produced a great performance and showed spirit," he said, according to BBC Sport. "I can't be concerned with nothing. I don't know and the club doesn't know anything about the reports of Costa to China. The truth is what I told you before."