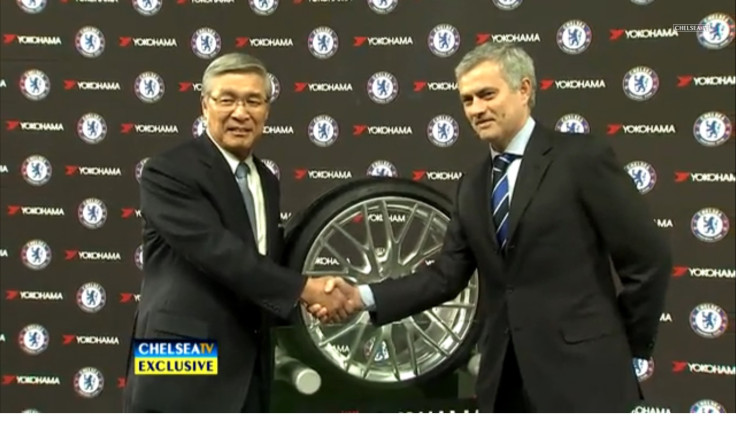 Chelsea has signed a mega shirt sponsorship deal with Japanese tyre manufacturer Yokohama Rubber, yielding a reported £40m (€55m, $62m) per year to the football club.
At the size, the deal is the second-biggest for English football, following Manchester United's seven-year deal with US car brand Chevrolet worth around £50m per year. The contract leapfrogs Chelsea above Arsenal, Liverpool and Manchester City in the shirt sponsorship table.
Chelsea's new five-year deal replaces the £18m-per-year-deal signed with Samsung in 2006. The club also had a £25m deal with Turkish Airlines on the table, but billionaire owner Roman Abramovich has sought more money.
As per the contract, the Japanese firm will be the club's shirt sponsors at the start of the 2015/16 season.
The landmark sponsorship comes as the West London club has become one of the most famous sporting groups with about 500 million fans. Chelsea is top of the English Premier League.
Chelsea was the sixth most valuable club in Forbes's annual soccer valuations for 2014 worth $868m. The club generated an operating income of $61m for the 2012-13 season.
"Chelsea and Yokohama are a perfect fit. Both are global organisations with a focus on performance and innovation, as well as having huge ambition and an unwavering culture of success," Chelsea Chairman Bruce Buck said.
"We believe that Yokohama will play a key role in helping us drive our global expansion in international markets such as the US, where they have operated with distinction for many years."
Japan-based Yokohama Rubber Company also sponsors NBA teams Boston Celtic and the San Antonio Spurs. It is listed on the Tokyo Stock Exchange. It manufactures industrial, construction, marine and aerospace products, as well as golf equipment. It has a global business spanning over 120 countries and employing more than 20,000 people.
"This shirt partnership with Chelsea will give Yokohama an opportunity to showcase our company to a huge worldwide audience thanks to Chelsea's ever-growing popularity," said, Tadanobu Nagumo, Chairman of Yokohama.
"We see our partnership with Chelsea as an integral part of our global expansion plans as we enter Phase IV of our Grand Design 100 plan. We look forward to launching our iconic new Chelsea Yokohama shirt this summer."
Launched in 2006, Yokohama's 12-year Grand Design 100 plan targets to maximise customer value and expand the company's global scope.