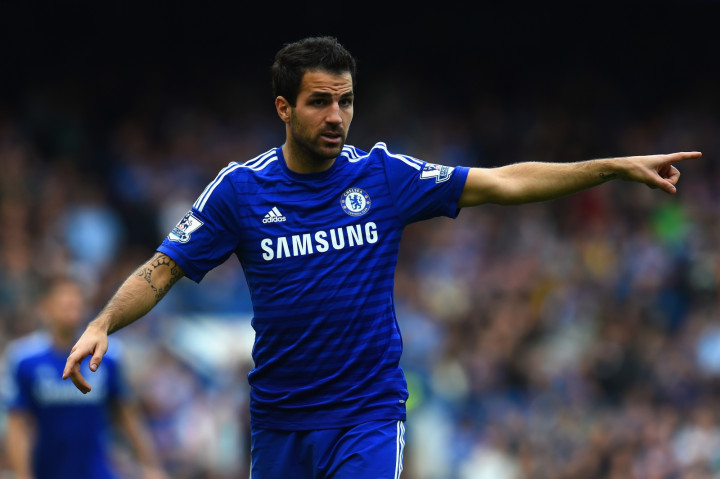 Chelsea midfielder Cesc Fabregas has claimed he is enjoying his football at Stamford Bridge more than at Barcelona and with Spain because Jose Mourinho has returned him to his favourrite position in the midfield.
Even though the Spaniard flourished in the middle of the park during his time at Arsenal, he was forced to play as a "false number nine" during his time at Barcelona and in Spain's national team due to the presence of Xavi Hernandez, Andres Iniesta and Sergio Busquets.
Fabregas scored 42 goals and provided 57 assists in just 151 games for the Catalans but he was always under scrutiny in La Liga, because he was not as influential on the team's game as expected.
Chelsea manager Mourinho said earlier in the season that Barcelona wasted him playing out of his favourite position and has handed Fabregas the chance to return to the midfield, forging an impressive partnership with Nemanja Matic.
"I feel more in control of the game. I touch the ball all the time and I feel happy and I go and get the ball from here and from there. I can go forward and Oscar drops deep and I feel free and confident and I am in control, and that is what I like the most in football," Fabregas said.
"Sometimes in the last three or four years with the national team and Barcelona I was playing like nearly No.9 and I have to do it for the team and I enjoy and it is all good, but here where I am playing is where I enjoy it the most."
The midfielder has played an integral role in the Blues' brilliant start to the season, providing 10 assists in 12 Premier League games.
"Right now I feel I am playing some of the best football of my career. If I chose this challenge, it is because I felt it could be this way but I didn't come here just to play well, I came here to win trophies," he said.
"If I can play well and enjoy myself then that's better but the most important thing is we know what we are doing - when we can defend, when we have to attack, when we have to slow the pace and go quicker. Right now we are doing that very well."
Even though Fabregas believes it is still to soon to think about the winning titles, he admits the Blues are moving in the righit direction.
He said: "I am playing next to great players and they are playing very well and are helping me. We have a young, talented team and the mood at the training ground is great.
"We know that for the next two months it is going to be really tough with a lot of games but the good thing about qualifying in the Champions League is we can concentrate on the eight games we have to 1 January in the Premier League."