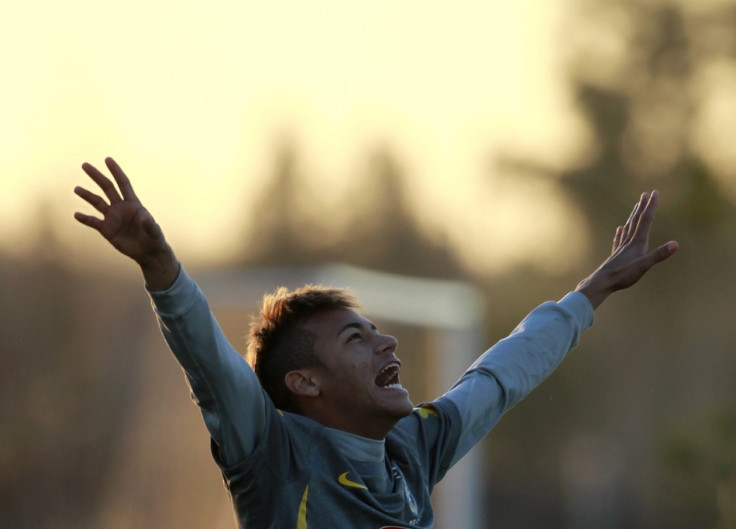 Neymar has made no formal agreement with Barcelona to move to the club at this stage, according to the Brazil international, with his father insisting he is a free agent after his contract with Santos finishes.
Neymar is the subject of a great deal of transfer talk, and when Carlo Ancelotti was in charge at Stamford Bridge, he admitted to liking the player and considering him to be a good addition to the Blues squad.
But Chelsea had a bid turned down for the youngster, who said it would be a dream come true to play for the London club, and now Barcelona and Real Madrid are chasing hard in the fight to land Neymar's signature.
And while Chelsea looked to be out of the race for Neymar, with reports connecting the youngster to an agreement with Barcelona, his father maintains no deal has been agreed to.
"Neymar has a contract with Santos until 2014," the player's father told ONA FM. "We believe it is in his best interests to stay, grow and mature as a footballer at Santos.
"We have just renewed his contract until 2014 - that is what has been decided.
"The only agreement that exists is between him and Santos."
But Chelsea won't be overly pleased at the news, with his father also admitting that Barcelona or Real Madrid would be possible destinations after the 2014 Brazil World Cup.
"They are two great teams and Neymar would be proud to sign for either of them," he said.
"Barcelona would be a special option but there is no agreement.
"Barca were clearly superior and it was a privilege for Neymar to be able to face a team that plays such wonderful football.
"Neymar must know how to win and how to lose; he saw an interview with Pep Guardiola after the final in which he said that training consists of losing in order to then go on and win.
"Neymar understood that victories are not built solely on other victories and we spoke about that after the game."
Last week Chelsea striker Didier Drogba implored Neymar to make a move to Europe to prove himself in one of the best leagues in the world. But the 19 year old, who already boasts a value of £50 million according to sources such as ESPN, is planning on staying in Brazil until he is fully ready for the big step.