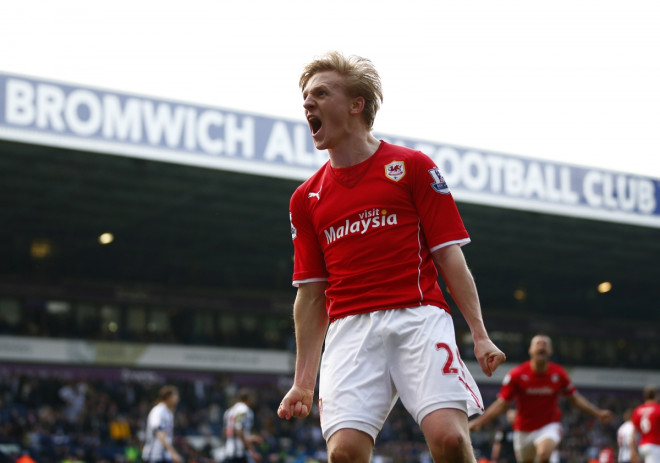 Chelsea are considering an approach in signing Cardiff City midfielder Mat Daehli at the end of the season, according to the Express.
The 19-year-old came up through the ranks of Manchester United's youth setup before making a switch to join Ole Gunnar Solskjaer at Norwegian club Molde last summer. He joined Cardiff following Solskjaer's appointment as the Welsh club's manager earlier in the season.
The report claims Blues boss Jose Mourinho is interested in adding home grown players to the squad and is keen on acquiring the services of Daehli in the summer. The west London club are keen on improving the numbers of home grown players and have set their sights on the former United youngster.
The west London club are eyeing a move in bringing Daehli to the Bridge, if Cardiff face relegation this campaign. They sit at the bottom of the table with 30 points from 36 games and are trailing 17th place Sunderland by two points.
Chelsea star Eden Hazard vented his frustration over Mourinho's his tactics during the Blues second-leg Champions League semi-final defeat to Atletico Madrid. However, the Portuguese boss slammed the Belgium international for his comments on the Blues's style of play.
The former Real Madrid manager believes Daehli would be a player who would follow his instructions, should he make a switch to Stamford Bridge in the summer. The Norwegian international has featured 12 times in the Premier League since joining the Welsh club in January.
The midfielder had earlier admitted that he had a choice to rejoin United in the mid-season transfer window. However, fear of not getting regular playing time at Old Trafford forced him to reject the Red Devils's offer.
"I just want to play first-team football and play for Ole. I had the offer from him and what he said to me and I want to kick on. I like playing under him that's why I came to the club," the Express quoted Daehli as saying.
"I want to start every game, but I know that I am young and still developing and there are parts of my game which I can improve on. But my focus is that I want to play and I want to show that every time I play."