Thibaut Courtois has claimed that he isn't planning on making a permanent move away from Chelsea, with the on-loan striker insisting he's happy in his current situation.
Courtois was purchased by the Blues in the 2011 summer transfer window, but immediately went on a season-long loan with Atletico Madrid to replace Manchester United-bound David de Gea.
And though reports have speculated that he might fancy a move to Spain on a permanent basis this summer, Courtois insists that as far as he's concerned, he's still a Chelsea player and firmly entrenched in the side's plans for the future.
"These things appear in the press, but I don't know anything," the 19 year old told AS, via Sky Sports.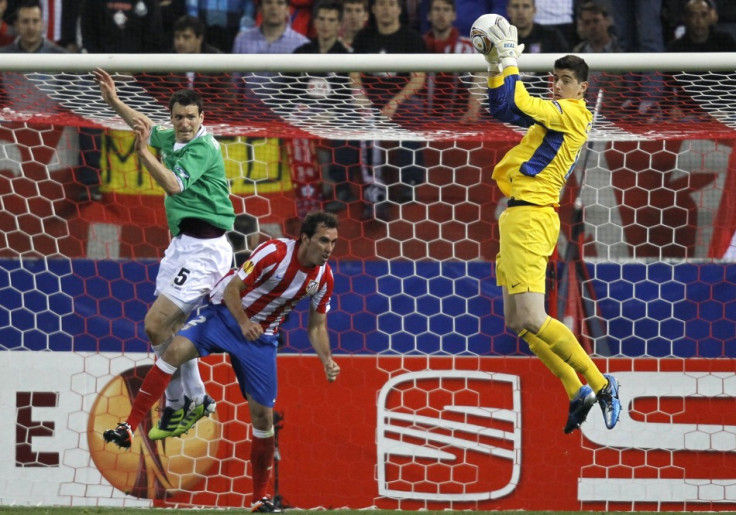 "To me the most important thing is Atletico, I am on loan from Chelsea and belong to the English club, but I am with Atletico and am just enjoying myself."
The stopper did admit though that he is learning a lot from his stay at Atletico, and hopes that Chelsea might come to an arrangement for his experience with the side to continue next season.
"I am very happy that the fans chant my name, and I have said I would be happy to stay at Atletico for another year, but I will have to wait," he explained.
"I am not 100 per cent sure what is going to happen, but I would like it to happen and I think it will.
"Everything has been great for me here, I did not know what to expect as I have not competed in a league like this coming from Belgium.
"I really like Atletico and Spain."
Chelsea made a host of young signings since Carlo Ancelotti was given the sack nearly a year ago, with the club bringing the likes of Lucas Piazon, Kevin de Bruyne, Romelu Lukaku and Courtois onto the books. Daniel Sturridge was also brought back into the line-up after a loan spell at Bolton, and the 22 year old has impressed so far.
Piazon, Bruyne and Courtois are all yet to receive their first mentions for the Blues, and the youngsters will continue to build experience elsewhere as the club plan to achieve long term goals as well as short term ones.