Former Liverpool midfielder Danny Murphy believes Liverpool's hopes of securing a place in the top four rests on the fitness of Daniel Sturridge and Philippe Coutinho. The England international scored the only goal for Liverpool in their 1-0 win over Stoke City in their opening game of the season, giving Brendan Rodgers' side a much needed win.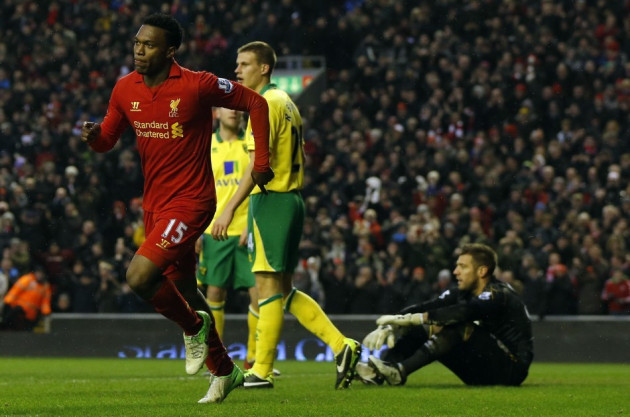 "Sturridge for me seems to get better. We talk about confidence and that lad doesn't lack in that area. He shoots from anywhere, he's got skill to beat people and Stoke couldn't handle him. If Liverpool can keep those two fit, I think they've got a real chance of top four, if Suarez goes back in the team as well," Murphy told talkSPORT.
Much of the summer has gone in talking about Luis Suarez, who has been linked with a move out of the club, with Arsenal believed to be frontrunners for his signature. The Gunners had a bid worth £40m and £1 rejected for the player with Liverpool unwilling to sell to their top four rivals at any cost. However, the issue seems to have been resolved and Rodgers has stated that he is happy with the way everything is panning out.
"He is a part of our team, part of our club. But I won't be saying anything on Luis Suarez, purely out of respect to the players that are here working hard. The only thing I will say is that I am very satisfied with the way everything has been resolved. We as a club are looking to the future and moving forward," Rodgers said.
Suarez is suspended for the first six games of the Premier League for his bite on Branislav Ivanovic last season but Murphy is also optimistic about Coutinho who has been a revelation for the Merseyside club since his arrival from Inter Milan in January.
"I spoke to Jamie Carragher a couple of weeks ago about Coutinho and I know he thinks the world about him and his potential, but his end product is what impressed me yesterday. Every time he got in the right position his passes were correct, he made the right choices and he threatened the goal and could have scored a couple himself," Murphy concluded.