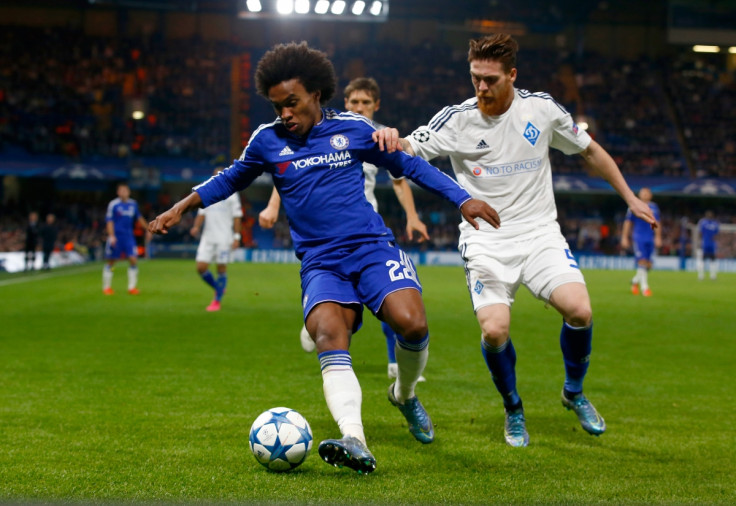 Paris Saint Germain star Lucas Moura has identified his compatriot Willian as the main threat for the Champions League second leg last 16 against Chelsea alongside Eden Hazard and Pedro Rodriguez. The Brazilian international, meanwhile, believes that the Ligue 1 side will need to score at least a goal at Stamford Bridge to make the most of their 2-1 advantage in the first leg and go through to the quarter finals.
Willian has been a rare light in the darkness for Chelsea in a disappointing campaign, having scored 10 goals in 40 appearances, including five in the Champions League group stage. The 27-year-old forward was also a threat at the Parc des Princes last month and Moura has warned his side about the Chelsea man's form after citing him as their best player.
"He's Chelsea's best player right now," Moura told the PSG official website when asked about his compatriot. "He's really very strong. We'll need to watch out for him, but he isn't the only player capable of making the difference. I'm thinking of (Eden) Hazard or Pedro... They're great players. We'll need to watch out for everyone."
Moura believes that the 2-1 advantage earned by PSG at home could help his side to secure qualification, although he insisted that PSG will try to win the game anyway as it would be vital to score at least a goal at Stamford Bridge to make the quarter finals.
"It was an important win. We played a good match at home, but the job isn't finished yet, on the contrary. Two goals to one is a complicated result. We'll have to go to London with the intention of scoring but I'm convinced that if we can play as we did in the first leg, we can qualify for the quarters," he said. "We shouldn't change the way we play [despite the advantage]. I think we need to do the same thing we did at the Parc, which is to say we should look to score and take control of the ball. That's how the way we know how to play."