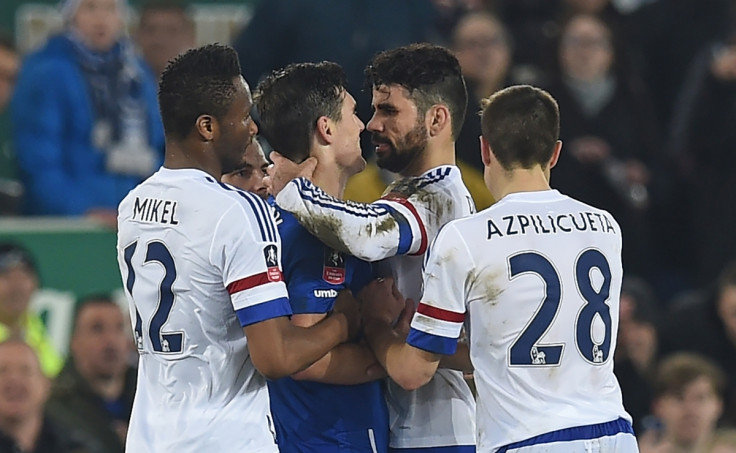 Chelsea manager Guus Hiddink confirmed that Eden Hazard will remain on the sidelines for the home game against West Ham on Saturday (19 March) due to a recurring problem in his hip. The boss, meanwhile, suggested that suspended Diego Costa would have been out for the derby anyway as the Spaniard also has a problem in his hip adding that the game will come too soon for Radamel Falcao.
Hazard and Costa have been left out of the Belgium and the Spain squads respectively ahead of the coming internationals after Marc Wilmots and Vicente Del Bosque revealed the duo are struggling with fitness issues. Wilmots said Hazard could be out for up to four weeks after the Belgian already missed the FA Cup defeat at Everton last weekend, with his father recently claiming that he had been playing with a hip injury for months.
Hiddink confirmed the news although was a little bit more positive about the Belgian's return to action, expecting that the international break help him to recover on time for the last part of the season.
"Hazard's injury is a tendon in the upper leg," he said. "He will be out for tomorrow, he still has discomfort in that area. It's good for him to see if he can get fit after the break."
Costa, meanwhile, leave the pitch in the second half of the Champions League loss to Paris Saint Germain due to a problem in his tendon but surprisingly played during the FA Cup defeat against Everton, being sent off later in the game following a confrontation with Gareth Barry.
Del Bosque revealed on Friday morning that the Spaniard was "forced to play" at Everton just because "Chelsea had a lot of to play" in the FA Cup game but opted to leave him out of the national team squad to avoid a further injury - while denying that the decision was influenced by Costa's behaviour in the game.
Hiddink confirmed the suspended striker also has a hip injury but added that the striker's recent on pitch behaviour could lead to a two-match suspension for the third time since his arrival to the Premier League, having already being punished with a three-game ban last season for stamping on Liverpool's Emre Can and earlier this campaign for shoving the face of Laurent Koscielny in the home win over Arsenal.
"Of course he's not happy and he will see if he gets another game as well," Hiddink said. "We'll see if it goes to a third game, yes or no. He desperately likes to play and he accepts he's suspended, but he's not happy."
"(Gareth) Barry made a very good statement by saying what happened or what didn't happen in this case. Maybe there was a bit of searching for Diego in terms of where they could get him. We talked many times about him playing on the edge and his reactions. We were, and still are, happy with his performances but I told you I could never give a guarantee he wouldn't be provoked. He knows he has to control himself, that's why we had a conversation. It's a matter of temperament and character. If he reduces what he did more frequently in the past then we are progressing."
Falcao, meanwhile, claimed earlier this week that he was ready to return to action following more than fourth months on the sidelines. Hiddink admitted that the former Manchester United striker has "physically recovered" but still needs to prove "he is competitive" to be in the squad.
"Falcao has had a very difficult time with long injuries. He has recovered physically and now he has to regain his physical fitness. He is training now for 10 days with the first team and we will see after the break if he is competitive. We have to see how he reacts to the more physical training."