Vitesse Arnhem striker Wilfried Bony is aware of reported interest from Chelsea and claims a move to the Premier League would be "perfect".
The 24 year old has scored 31 league goals in 24 games this season, helping Arnhem to all but qualify for the Europa League with two league games remaining.
Bony has previously spoken of his desire to move to the Premier League with West Ham United, however European Champions Chelsea have now come to the fore.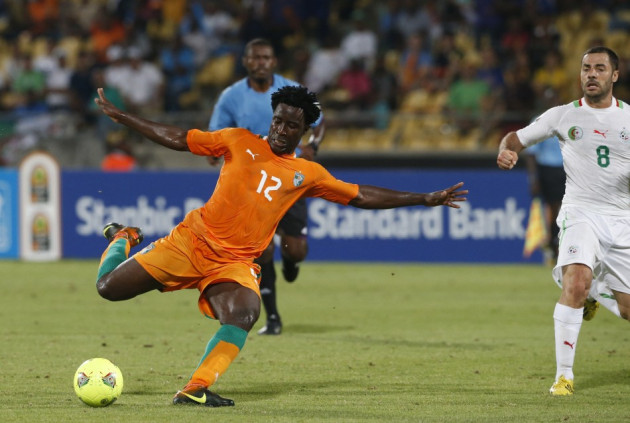 "For me the Premier League is the top league [in Europe], but the Bundesliga is also good - France, Italy and Spain they're all good too," said Bony.
"England I think would be perfect. I'm very interested in the Premier League and the atmosphere in England, it's a wonderful league and we will see what happens.
"It would be great for me [to move to a club in the Champions League]. It's the only competition I haven't played in yet."
"The transfer market has not started yet. There's nothing concrete," he told BBC Sport.
"There is a lot of talk about me in the newspapers but I'm still focused on the last two games of the season with Vitesse and at the end of the season we will see.
"I've heard the rumours [about Chelsea being interested], like you've heard about that. There's nothing concrete. We'll see at the end of the season."
Despite signing Demba Ba in the January transfer window Chelsea are likely to seek additional attacking resources in the summer to help bridge the gap to champions Manchester United.
Bony is likely to follow in the footsteps of Ruud van Nistelrooy and Luis Suarez in moving from Dutch football to the Premier League this summer, a move the Ivory Coast international has described as perfect.
Reports of a move to West Ham, who are still to decide over the future of Andy Carroll, surfaced at the start of the year and Bony claimed in March a move to Upton Park was a "possibility", putting in jeopardy Chelsea's hopes.
"If I go to England that would be perfect because of the league, the atmosphere - basically everything," Bony said.
"I know only by hearsay, nothing is concrete, but [a move to West Ham] is certainly a possibility."