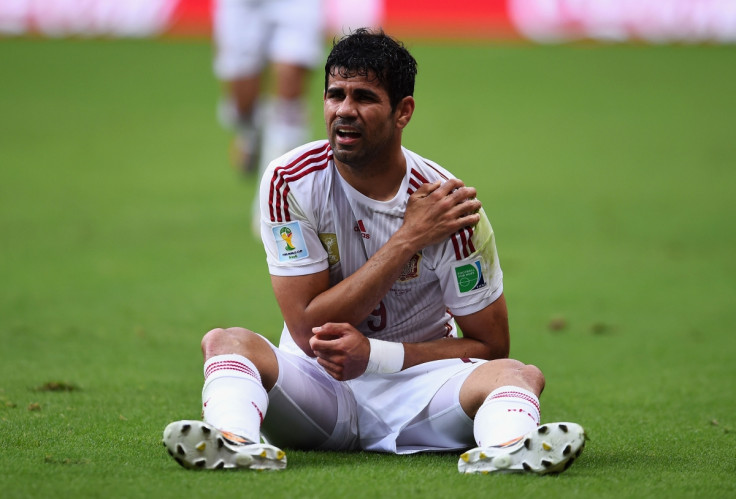 Vicente Del Bosque has hailed Diego Costa and Cesar Azpilicueta's return to the Spanish national team after the Chelsea duo were excluded in recent calls-up due to "sporting reasons". Meanwhile, new blues signing Pedro Rodriguez and Cesc Fabregas have also made the cut for the European Championship qualifier against Slovakia on 5 September and another qualifier against Macedonia three days later.
Costa was under a lot of scrutiny in Spain last season after some fans made him a scapegoat for the disappointing campaign at the Brazil World Cup. Some claimed his aggressive style did not fit into La Roja's tiki-taka philosophy while other critics accused him of a lack of commitment as he was born in Brazil.
The doubts over the Chelsea striker all but increased in November when the player ruled himself out of the national team for both games against Belarus and Germany in November 2014 citing injury - even though he had been playing for Jose Mourinho's side. Del Bosque backed the striker but Costa eventually missed the following call-ups in March and June with recurrent hamstring problems.
"Diego Costa's case is a singular issue. He has played with Chelsea the last two games but not the full 90 minutes. He has muscular discomfort and we have two complicated matches in which we have to be confident. It should not generate any doubt about him, we praise him and just like [Paco] Alcacer did not come in the past for the same reasons, now Costa has not made the cut," Del Bosque explained in May after dropping the Chelsea striker for the games against Costa Rica and Belarus.
Meanwhile, Azpilicueta played an important role both in the 2013 Confederations Cup and the 2014 World Cup but has since fallen out of favour. Despite his versatility on both flanks the Spanish gaffer indeed opted to leave him out of the squad in favour of other full-backs like Juan Bernat, Barcelona's Jordi Alba, Atletico Madrid's Juanfran and Real Madrid's Dani Carvajal.
But Del Bosque has now decided to give the duo another chance alongside team-mates Cesc Fabregas and Pedro Rodriguez in his 23 man-squad. The manager said his decision to include Costa was based on a "sports-related criteria" and hinted Azpilicueta could be used as a centre-back due to Mikel San Jose's injury.
"In the previous list we said that Costa had been omitted for sporting reasons, he's free of injury problems and now he's playing well and we have a lot of faith in him. That's why he's been called, for sports-related criteria," Del Bosque was quoted by AS when asked about the striker's return.
Queried about Azpilicueta's expected role, he replied: "He's playing at left-back and we have confidence in him."
"He's a very good, aggressive defender. We can use him as a full-back or a central defender. San José is out injured and can't be with us so we have brought Azpilicueta in for that reason".
Meanwhile, the manager played down the fact that all the four Chelsea Spaniards are now in his squad.
"We don't make any distinctions; it's true that right now, Chelsea seems like the basis of Spain's national side but we don't pay any attention to where the players play".
And questioned whether the number of Chelsea players in the Spain squad gives Mourinho an ego boost, he replied: "You'll have to ask him."
"As I have just mentioned we don't pay any attention to the country or the club where the players are playing".
Former Chelsea playmaker Juan Mata, who had also fallen out of favour since the World Cup, has returned to Del Bosque's squad while David De Gea also made the squad despite his continuing transfer saga at Old Trafford.