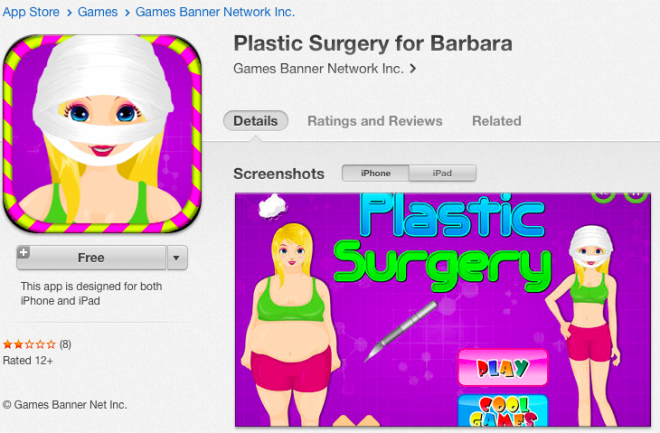 An app which emulates the process of plastic surgery has been pulled by Apple from its App Store following backlash on social media - but a similar app remain available.
The original app, called 'Plastic Surgery & Plastic Doctor & Plastic Hospital Office for Barbie Version', featured a cartoon-like interface and was advertised as being suitable for children aged nine and upwards.
The description of the app read:
"This unfortunate girl has so much extra weight that no diet can help her. In our clinic she can go through a surgery called liposuction that will make her slim and beautiful. We'll need to make small cuts on problem areas and suck out the extra fat. Will you operate her, doctor?"
The gameplay saw users taken step-by-step through the graphic process of liposuction on this "unfortunate girl" in order to make her "slim and beautiful."
The presence of the app was highlighted on Twitter by @EverydaySexism and following thousands of retweets, Apple pulled the app from its store.
However another almost identical apps remains available in the App Store, called 'Plastic Surgery for Barbara' which has been created by Games Banner Network, a company which has dozens of apps in the App Store all aimed at young girls.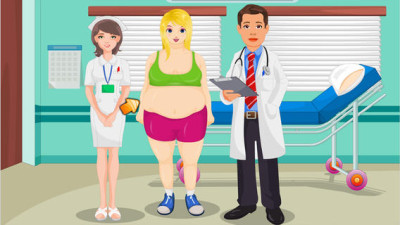 The description of this game, which is rated 12+, says:
"Barbara likes to eat a lot of burgers and chocolates and once she found out that she looks ugly. She can't make it up with this situation any additional second. And today plastic surgeon is going to make operation on her body and face in order to return cute Barbara's look. She is afraid of all of this, but I know you will check that everything is over normally."
Google has also come under fire for having the same game, though going under the name 'Plastic Surgery' available on its Play Store. The search giant has removed the app following @EverydaySexism's Twitter account highlightling it's presence.
There are dozens of plastic surgery apps in both the App Store and Google Play, but aside from the apps mentioned above, none feature the cartoon-like interface which would be appealing to children.