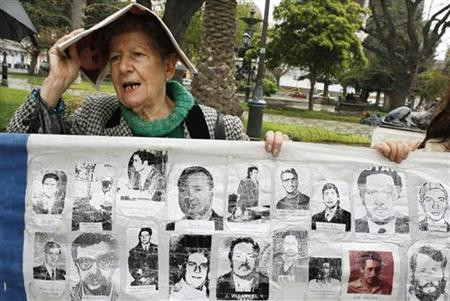 A Chilean court will reveal the contents of ruthless dictator General Augusto Pinochet's last will and testament, which has been kept under seal since his death in 2006.
The opening was requested by the defence council of the state, which is seeking to recover funds from Pinochet's estate.
Judge Manuel Valderrama, who is in charge of the investigation into the fortune amassed by the dictator, said the move is an "act of law" that will equally redistribute the dictator's properties among his heirs.
"Personal and real estate assets are seized under the investigation and we are going to see if there is some transfer of assets in the will," he said. "The opening of the will is a civil act that has no more relevance for the criminal investigation."
A government representative will attend the private opening, seeking to recover any state money from Pinochet's estate.
His oldest daughter, Lucia Pinochet Hiriart, said the order to open the will amounted to "political persecution". She accused Chile's leaders of lacking the moral courage to call off the investigation into allegations that he stole from the state and said that she has "no expectations" concerning the document.
"We, the children, are not interested in opening something that has been seized. It could bring us problems by saying someone receives more than someone else, which is likely to happen," she said.
Pinochet's fortune, which is valued at $26m (£16m),has been under legal scrutiny since 2004 and he died under house arrest before being brought to trial on charges of illegal enrichment and human rights violations.
An American investigation by the Chilean government into the US-based Riggs Bank discovered that Pinochet was holding $8m in secret accounts.
In 2005, Riggs Bank agreed to pay$9m into a fund for victims of Pinochet regime.
It was recently discovered that Pinochet changed his will the same year.
The bank allowed the defence council of the state to seize Pinochet's properties across the country and freeze his domestic bank accounts.
Once the will is opened, Pinochet's heirs will have to establish if they are legally entitled to his fortune.
"They may apply for[reversing the seizure], but from there the court will see if it is appropriate," Valderrama said.
Although not all of it was justified by his military salary, the $26m fortune that Pinochet accumulated consists of money, cars and property.
His known wealth includes a country house in El Melocoton, luxury apartments in the coastal town of Renaca and the port of Valparaiso, his home in a wealthy neighbourhood of Santiago, several cars, $2.6m deposited in a local bank and $280,000 in savings at BankBoston.
His family has always maintained the wealth came from his "honest work" leading Chile and from "lifetime savings". But a study by the University of Chile found that $17.8m of it was unjustified.
Pinochet took power in 1973 with a military coup. During his 17-year dictatorship, 3,065 people were executed or made to disappear and there were 40,018 cases of political imprisonment and torture, according to the Santiago Times. From 1990, he spent years as a "senator for life" before he died under house arrest at the age of 91 in 2006.