China: 'Big head' toddler receives life-saving 3D printed titanium skull implant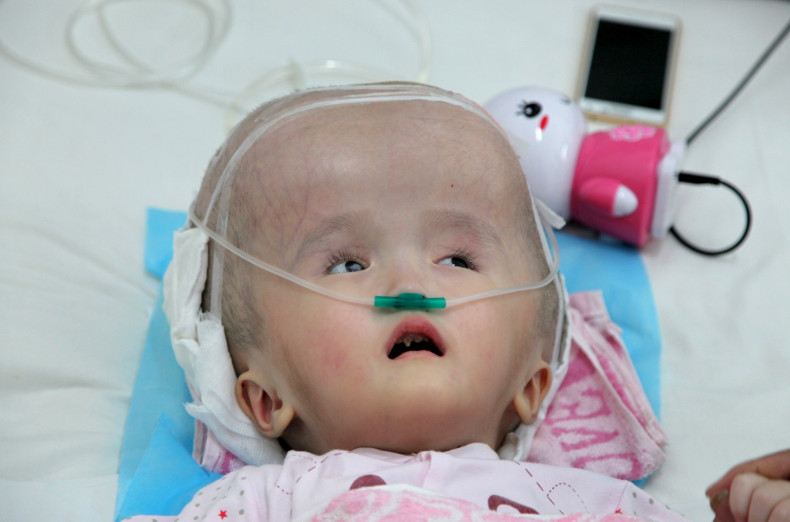 A three-year-old girl in China who was born with a birth defect that caused her head to swell up to four times the normal size has been successfully treated with a 3D printed skull implant.
Han Han was born with congenital hydrocephalus, a birth defect that causes cerebrospinal fluid (CSF) to build up on the brain instead of draining away naturally and being absorbed into the blood vessels.
The condition was diagnosed six months after she was born and it caused her skull to grow to become 20cm x 20cm in size. Apart from putting huge pressure on to her brain, she developed ulcers on thinning portions of her skull and her optic nerve was squeezed so hard by the pressure that she almost went blind.
According to Chinese newspaper People's Daily, Han Han, who is known by friends, family and people from her home town as the "Big Head Baby", has been bedridden since September 2014.
She had reached the point where she found it difficult to lift her head at all, as it now weighed more than half of her entire body weight.
Struggling to pay for treatment
As Han Han's mother had left when she was just one year old, her father took on odd jobs in order to earn CN¥100 (£10.32, $16.10, €14.83) per day in order to pay for anti-inflammatory drugs for her.
When Han Han was first diagnosed, her family saved and asked friends of the family for donations, and they managed to raise CN¥100,000, but they still didn't have enough money.
Eventually two and a half years later, they managed to raise enough money for the operation, thanks to hundreds of generous strangers over the internet, and Han Han was taken to the Second People's Hospital of Hunan Province.
"CT results showed that Han Han's brain was filled 80% with water," said Dr Bo of the Second People's Hospital of Hunan Province, according to 3DPrint.com.
"If she was not sent to hospital for treatment, Han Han would not have survived the summer. We had to first eliminate the infection in Han Han's head because the brain wound area was too large, and we needed to do skin-graft surgery and insert a shunt to help eliminate the infection, and remove the fluid from her brain."
Going through 17 hours of surgery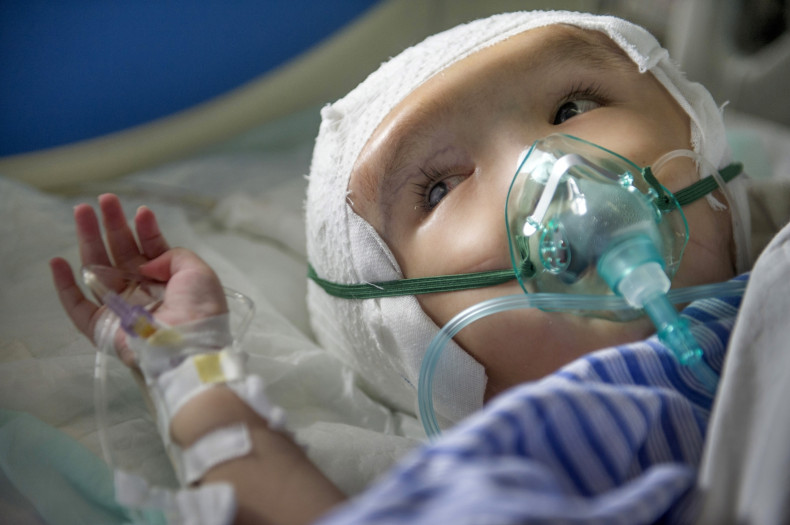 The surgeons realised that they would need to perform a "whole brain shrinking plastic surgery" (translated from Chinese) – i.e. they would need to remove the top half of Han Han's skull, reposition her brain and then implant a new skull, something that had never been attempted in the hospital before.
The medical team used CT scans of Han Han's head and brain to create new models for how big her skull ought to be and then 3D printed three titanium mesh skull implants.
The surgery lasted for 17 hours and required the doctors to first carefully peel her scalp away from her skull, attach it to protective saline pads and then insert tubes into her head to drain the fluid, before inserting the titanium implants.
Thankfully, Han Han opened her eyes immediately and was able to breathe on her own after the surgery was complete, and she is expected to make a full recovery. Eventually, the bone of her skull will grow up over the implants and form a new upper skull.
Use of 3D printing is on the rise
The use of 3D printed implants for head-related conditions and injuries is on the rise.
Dr Muhanad Hatamleh, a senior clinical maxillofacial prosthetist at King's College Hospital in London, told IBTimes UK at the 3D Printshow 2015 in May that 3D printing is now absolutely essential to doctors who work with reconstructive surgery for the head, mouth, jaw, face and neck.
In August 2014, doctors at the Xijing Hospital in Xi'an, Shaanxi province used a 3D printed titanium implant to rebuild half a man's skull.
Prior to that, in March 2014, a 22-year-old woman in the Netherlands became the first person in the world to receive a full skull replacement transplant, where the entire skull was removed and replaced with a 3D printed plastic skull.
Finally in June, an Australian man received the first 3D printed titanium prosthetic jaw joint implant from Melbourne University.