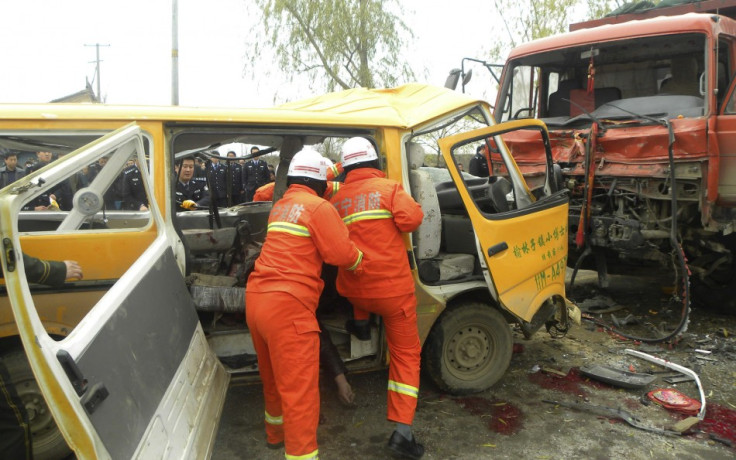 Chinese authorities have arrested the head of the kindergarten that operated a severely overcrowded bus which crashed and killed 19 children and two adults.
A total of 64 people - two adults and 62 children - were crammed into a nine-seater minibus when it collided with a lorry in the Yulinzi township, in northwestern Gansu province, on Wednesday.
The driver and a teacher were killed along with the children, who were all aged between three and five years old, and all 43 surviving children were injured. The bus was on its way to the Little Doctor Kindergarten.
The driver was reportedly driving on the wrong side of the road and above the speed limit at the time of the crash.
"Li Jungang, the chairman of the kindergarten, was arrested on charges of causing a traffic accident," said Yuan Suiming, deputy chief prosecutor in Zhengning.
"He could be given a sentence of more than seven years in prison."
The state-run news agency Xinhua reported that the seats had been removed from the all four minibuses owned by the kindergarten - which has more than 700 children enrolled -in order to cram more passengers inside.
Xinuha also reported that the parents of the children who died would receive compensation of 436,000 yuan ($68,500, £43,500).
The privately run school is set to be closed and replaced with publicly run facility.
Such overcrowding on school buses is common in China, and accidents happen frequently because of poorly maintained vehicles and poor driving habits.
Commentators have said the closing of rural schools have increased the problem as children have to travel further to get an education.
In December 2010, 14 children died when their school bus plunged into a creek in heavy fog near the central city of Hengyang.
In 2010, Chinese police officially recorded 219,521 traffic accidents, 65,225 of which led to deaths.