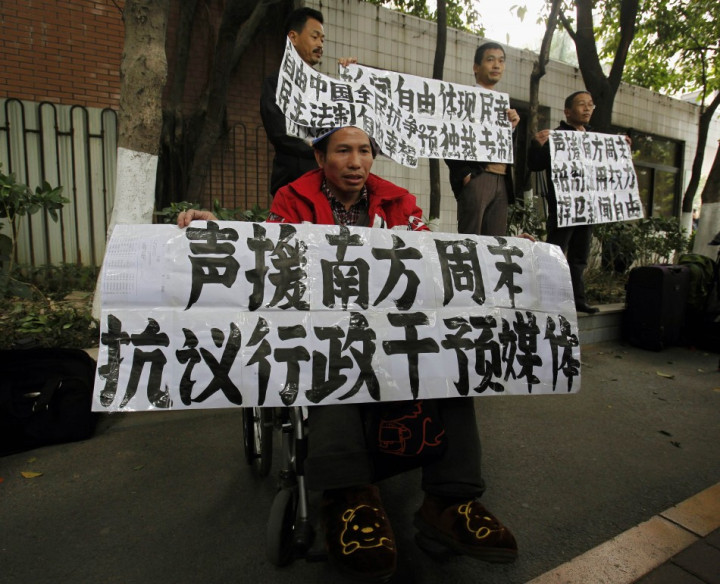 The standoff between Chinese authorities and journalists who stood up against the Communist Party's censorship continues amid reports of arrests, deals and resignations.
Journalists at Guangzhou-based newspaper Southern Weekly have reportedly agreed to go back to work after a five-day protest against the censorship regime.
Two members of the liberal paper editorial staff said authorities accepted not to punish Southern Weekly reporters for striking against the re-writing of a New Year's editorial.
The paper also obtained assurances that local propaganda officials will desist in directly changing articles before publication. However the traditional "editing" process mutually agreed with authorities is to remain in place.
The protest by Southern Weekly journalists has also resulted in two days of intense rallies outside the paper's headquarters. However the anti-censorship protests have now slowed down, with only a few demonstrators sill patrolling the area.
Crackdown and resignations
Some sources are claiming the protests were quelled by force. The Australian newspaper claims dozens of activists have been put under house arrest and questioned by Communist party authorities.
Moreover, the editor of Southern Weekly's sister publication The Beijing News has reportedly resigned after a confrontation with propaganda officials over coverage of the paper's protest.
According to the Southern China Moring Post, Beijing News editor Dai Zigeng resigned after refusing to publish a Party-written editorial that blamed the Southern Weekly strike on "external hostile forces".
The editorial in question, which first appeared on Communist mouthpiece Global Times, asserted that "party control of the media is an unwavering basic principle." The authorities apparently wanted it to be published by a number of dailies, including the Beijing News, and a Beijing propaganda official even threatened to shut down the paper if it did not comply.
Dai eventually agreed to publish the article, but refused to put the editor's name at the bottom of the page and promptly resigned.