China: Drop in reservoir water levels reveals 600-year-old Buddha statue and a submerged temple
Archaeologists believe the Ming-dynasty statue was part of a temple.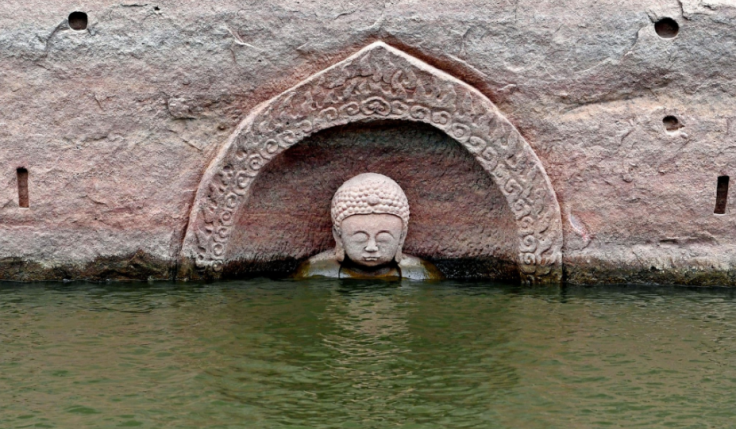 A drop in the water levels at the Hongmen Reservoir in China's Nancheng County in the city of Fuzhou has revealed an ancient Buddha statue, which archaeologists believe is around 600 years old.
The head of the structure was first discovered by villagers late last year after the water levels were brought down by more than 10 metres for a hydro-power gate renovation project.
On 15 January, an archaeological team completed its underwater mission under the State Administration of Cultural Heritage and Jiangxi Provincial Research Institute of Archaeology.
According to the research, the 3.8 metre-tall statue was carved onto a cliff face. Based on the style of the carving, Xu Changqing, director of the Research Institute of Archaeology of Jiangxi province believes it belonged to the Ming Dynasty (1368-1644).
"A preliminary study of the statue suggests it was probably built during early Ming Dynasty, maybe even earlier as the Yuan Dynasty," Xu told CNN.
Researchers also discovered inscriptions and the base of a hall under the water measuring 165 square metres. Together the carvings indicate that it could have been part of a temple.
According to local records, the reservoir was built on the ruins of an ancient town called Xiaoshi -- an important trade center between Jiangxi and Fujian provinces. The temple was built at the intersection of two rivers and was meant to protect boats from the harsh cross currents.
The archaeological team will attempt to expand its research to involve the surrounding area.
© Copyright IBTimes 2023. All rights reserved.