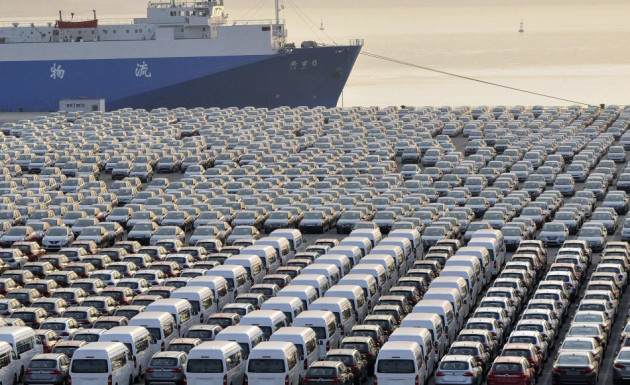 China has reported better-than-expected trade figures for December, adding to hopes that the world's second largest economy recovered in the final quarter of 2012 following a slowdown.
The trade surplus for December widened to $31.6bn (€24.2bn, £19.7bn) from $19.6bn reported for November, according to official data. Economists polled by Dow Jones Newswires were expecting the surplus to remain stable at $19.6bn.
Exports, a key indicator of China's economic growth, increased 14.1 per cent in December from a year earlier, compared to just 2.9 percent growth in November. December growth rate, which has beaten economists' expectations for a 4.6 percent rise, was the fastest pace in seven months.
Shipments to the US, which replaced the EU as China's biggest export destination in 2012, rose 10.3 percent, compared to a 2.6 percent decline in November. Exports to the EU increased by 2.3 percent, compared to an 18.0 percent decline in the prior month. Exports to Hong Kong, ASEAN and Taiwan rose 34.4 percent, 27.8 percent and 51.9 percent, respectively.
In addition, imports rose 6.0 percent from flat figures in November, while analysts expected an increase of 3.3 percent.
For the full year of 2012, China's trade surplus widened substantially to $233bn from $158bn in 2011. Nevertheless, the increase was primarily due to weakening imports rather than strengthening exports.
Exports for 2012 rose 7.9 percent compared to a 20.3 percent growth in 2011. Yearly growth in imports was 4.3 percent, down from 11.8 percent growth recorded in the previous year.
Following a 7.4 percent decline in economic growth in the July-September quarter, analysts were concerned about the growth prospects of the economy.
Recently, a string of economic data, including manufacturing, services sector output, industrial production, retail sales, fixed-asset investment and new-home prices, showed an improvement in the final months of 2012, raising hopes of a recovery in the fourth quarter.
The improvement in December is still below the official 10 percent growth target for trade for 2012, indicating that exports remain weak on continued sluggish demand from Europe.
Despite indicating an upside bias of the gross domestic product growth in the fourth quarter, foreign trade is "unlikely to provide new impetus to China's growth" over the medium term due to the declining demographic inputs and diminishing effect associated with China's entry into the World Trade Organisation, according to analysts from ANZ Research.
The analysts also doubted the reliability of China's trade data due to the huge volatility as indicated by the new export orders constituent of the purchasing managers' index.
"We found significant inconsistency between China's headline trade figures and the port throughput numbers, highlighting the data accuracy issues. We thus recommend monitoring a wider range of indicators, especially the port throughput figures and shipping prices, to catch a more comprehensive picture," the analysts said.