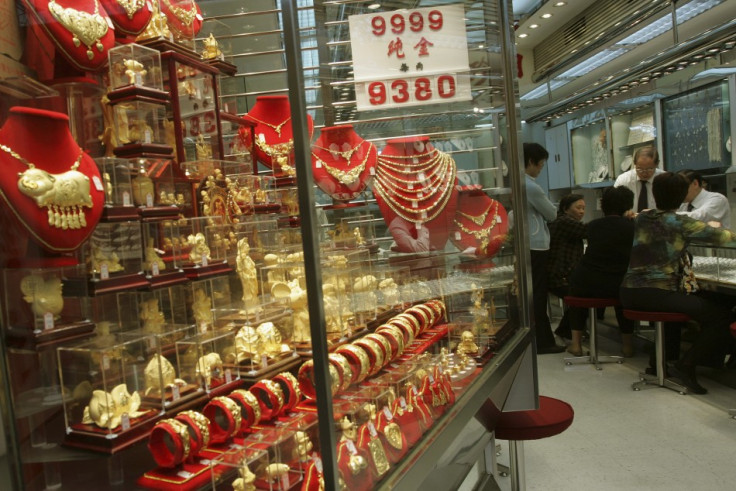 China surpassed India as the world's largest gold market as the demand for the precious metal hit record highs in the first quarter.
The high average price for gold was due to lack of investor confidence in the Chinese real estate market because of the recent market curbs on the sector and of high inflation, according to the World Gold Council (WGC).
"Further growth is expected (in China): investors remain wary of high inflation rates; and property market restrictions continue to drive demand for gold among investors seeking access to real assets," said the WGC in its quarterly Gold Demand Trends report.
The high Chinese gold demand was seen bucking the global trend of lower consumption of the yellow metal. According to the WGC, global gold demand fell five percent to 1,097.6 tonnes in the first quarter of 2012 due to higher prices.
Gold prices were up 22 percent in 2012 compared to a year ago. With the latest increase in gold prices, China became the world's top gold consumer for a second term in a row, grabbing the title from India.
"It is likely China will become the largest source of demand for gold in 2012," said the WGC.
Consumer demand for gold recorded a 10 percent rise to 255.2 tonnes in 2012 against India's 207.6 tonnes which is a 29 percent decline.
Demand for gold bars and coins rose 13 percent marking a quarterly record of 98.6 tonnes. At the same time the jewellery demand rose to 156.6 tonnes, an increase of 8 per cent which constituted 30 percent of the global jewellery market.
According to the WGC, the future of Chinese gold demand depends on the price movements in the bullion market as well as other factors such as the real estate and stock market performances.
The factors which contributed to a decline in Indian demand for the metal include a new tax on gold jewellery (which has since been withdrawn), two increases in the import duty for gold and weakness and volatility in the Indian rupee.
Investment demand in India was down 46 percent from the previous year at 55.6 tonnes. The industry is responding positively to the Indian government's reversal of the new tax on jewellery.
Global Gold Demand
Central banks around the world are net buyers of gold. While the investment demand and central bank buying increased, the demand from the technology and jewellery sector eased considerably, the WGC noted.
Some countries buy gold to diversify their foreign reserves while others invest in gold to maintain the balance of their foreign reserve ratio. East European countries and emerging markets increased their gold reserves in the quarter, according to the WGC.
Global investment demand grew 13 percent to 389.3 tonnes recording more inflow in gold ETFs while bars and coins recorded a 17 percent fall year-on-year.