China Pollution Levels: Chinese New Year 2013 Masked by Smog [SLIDESHOW]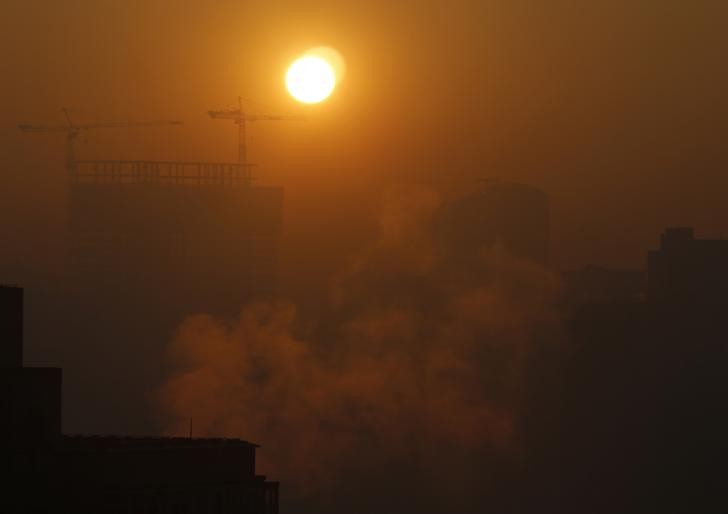 Although China is busy celebrating the Chinese New Year (the Year of the Water Dragon has given way to the Year of the Water Snake), pollution levels across the country threaten to spoil the party.
A dangerous haze of pollution has drifted across skies in the capital city of Beijing. The result is the quality of breathable air in one of the most populated cities in the world has been poor, and even hazardous to health, particularly over the last month.
The situation has forced the recently formed Politburo to take drastic measures. It is believed over 100 factories around the Beijing industrial area alone have been shut down and 30 percent of all government cars have been taken off the road.
In addition, the government is also aware that the Chinese New Year (celebrated on Sunday, 10 February) could add to the pollution haze; traditional New Year celebrations involve the bursting of firecrackers. The government has pleaded with citizens to refrain from using firecrackers during the Chinese New Year celebrations.
Amid public pressure, the municipal government was forced to make available data relating to pollution levels. Among the statistics revealed were the levels of 'PM2.5' - fine, particulate matter emitted by motor vehicles, which causes health problems including lung irritation, coughing and sneezing. High levels can create heart problems.
According to Europe China Daily, PM2.5 touched 886 micrograms per cubic meter (measurements by the US embassy in Beijing). This is 35 times the limit prescribed by the World Health Organisation (WHO).
The report adds that as many as 20 districts neighbouring the Beijing area were equally badly affected. The Chinese Meteorological Administration issued Yellow Warnings for smog and haze in central and eastern China.
Chinese New Year: Use Less Firecrackers
PM2.5 levels reached 1500 in Beijing during Chinese New Year 2012. The government's call for restricted use of firecrackers has made a small difference; it is understood there has been a drop of 37 percent in sales of cartons of firecrackers sold from 5 February to midnight on 9 February.
Click Start to check out a slideshow of photographs of the polluted skyline over Beijing and parts of China, even as the Chinese New Year 2013 begins
READ Chinese New Year 2013: Year of Snake Follows the Dragon
READ Chinese New Year 2013: Predictions for the Year of the Snake as Beijing Celebrates with Colour and Style [PHOTOS]
READ Chinese New Year 2013: Year of Water Snake Welcomed with Stunning Fireworks Display [PHOTOS]
© Copyright IBTimes 2023. All rights reserved.