The death toll from the earthquake that hit China's Yunnan province is expected to rise as rescue teams, travelling mostly on foot, reach remote parts of the region.
Rescuers dug through decimated homes, looking for survivors of a 6.1-magnitude earthquake that hit southern China's Yunnan province, killing 381 people and injuring more than 1,800.
Chinese state broadcaster CCTV said 1,891 people were injured, three were missing and 29,400 had been evacuated.
Rain and thunderstorms have been forecast in the coming hours, complicating rescue efforts already hampered by power and telephone outages. Around 2,500 troops and volunteers, including medical staff, had to travel on foot to reach the area with the roads having caved in.
Power was restored to around 19,000 homes on Monday morning.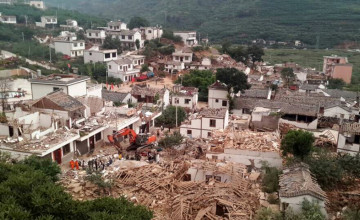 Some 12,000 homes, most of them old and made of brick, were destroyed and 30,000 others were damaged. People have since been relocated from structurally unsafe houses.
The affected county, Ludian, located about 366km (227 miles) northeast of Yunnan's capital, Kunming, has a population of around 400,000.
The quake-prone mountainous region is largely agricultural, but also has its share of mining industries.
The epicentre of the quake was recorded in Longtoushan township of Ludian, 23km (14 miles) southwest of Zhaotong, and tremors were felt almost 200 miles away. Hundreds of aftershocks have been recorded following the initial tremor.
President Xi Jinping called for "all-out efforts" in relief operations, with top priority given to saving lives, minimising casualties and providing adequate shelter for displaced victims of the disaster.
The Red Cross Society of China distributed quilts, jackets and tents among the displaced, while Red Cross branches in Hong Kong, Macau and neighbouring Sichuan province also sent relief supplies.
UN Secretary-General Ban Ki-moon offered "his condolences to the Chinese government and the families of those killed," according to a statement from his office.
The statement said the UN is ready to "lend its assistance to efforts to respond to humanitarian needs" and "to mobilise any international support needed".
In 1970, a magnitude-7.7 earthquake in Yunnan killed at least 15,000 people, and a magnitude-7.1 quake in the province killed more than 1,400 in 1974. In September 2012, 81 people died and 821 were injured in a series of quakes in the Yunnan region.