As many as 10 life-sized terracotta statues of Chinese warriors will be the central attraction of an exhibition in San Francisco from Feb. 22-May 27, 2013. The exhibition -- China's Terracotta Warriors: The First Emperor's Legacy -- is being organised to commemorate the 10th anniversary of the Asian Art Museum.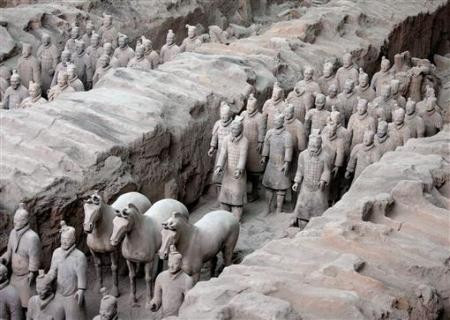 "In China, history is being unearthed. Bringing a chapter of this epic story to San Francisco-with 10 life-size sculptures from one of the most significant discoveries of our time-is a great way to commemorate this occasion," Jay Xu, the executive director of the museum, said in a statement.
The Asian Art Museum will display the terracotta warrior figures, one of the greatest archaeological discoveries in the world, for only the second time in the past two decades. The museum, incidentally, was among the first to be given permission to host such an exhibition, when they held the first one in 1994.
The authorities have not yet confirmed the 10 statures at the proposed 2013 exhibition will feature finds from the new figures recently unearthed. In the latter case, approximately 110 new terracotta warriors were found inside the No. 1 pit of the Museum of Qin Terracotta Warriors and Horses -- the mausoleum of the Qin dynasty's Qin Shi Huang (221-210 BC), the first emperor of China, archaeologists announced in June.
Terracotta Army
Dubbed as the Terracotta Army of China's Qin Dynasty, the life-size statues were first discovered in 1974 in the outskirts of the Xi'an province and opened to the public on China's National Day in 1979.
More than 8,000 terracotta sculptures of warriors, horses and more than 10,000 bronze weapons have been excavated from the pits so far. Estimates suggest some 6,000 more statues are still buried. UNESCO claims the terracotta army of the Qin Shi Huang Mausoleum may represent the exact number of the imperial guards of the emperor.
Meanwhile, along with the ten terracotta warrior statures, the exhibition in San Francisco will also showcase 120 objects from the tomb of Qin Shi Huang.