China has warned the US to "carefully handle" the Tibetan issues after top US lawmakers visited the Dalai Lama at his headquarters in north India in a bid to draw attention to human rights in Tibet.
House Democratic Leader Nancy Pelosi, leading a bipartisan delegation met the exiled Tibetan leader in his Himalayan hill town of Dharamsala on Tuesday (9 May). They vowed to stand by the monk and not give up in their campaign to protect human rights in Tibet, much to the fury of Beijing even as US President Donald Trump eyes warmer ties with China.
Chinese Foreign Ministry spokesman Geng Shuang said the Buddhist monk is a political separatist who uses religion as a reason to engage in anti-China activities.
"The visit by the relevant delegates of the US Congress to meet the Dalai Lama sent a very wrong signal to the world about Tibet independence and goes against the United States' promises on Tibet. China firmly opposes this and has lodged solemn representations with the US," Reuters quoted Geng as saying on Wednesday (10 May).
"We urge relevant congress people in the US to carefully handle the Tibet issue stop all communications with the Dalai Lama and take immediate measures to deal with the negative impact of the visit."
Besides meeting the Dalai Lama, the eight US lawmakers, all but one Democrat, also met Tibet's Prime Minister-in-exile Lobsang Sangay and visited a Tibetan settlement in Nepal's capital Kathmandu.
Such meeting have always known to have upset China as it has accused the Dalai Lama of promoting independence for Tibet from the rest of China, while the Nobel Peace Prize-winning monk has been saying that he only wants a higher degree of freedom for his homeland Tibet. He fled his hometown after a failed uprising against the Chinese rule in 1959.
Pelosi blamed the US for not doing enough to hold China responsible on human rights violation but instead focusing on trade relationship that has benefitted Bejijng.
"We just decided to ride the tiger, and the tiger decides when you're going to get off," the Democrat told Reuters. "And we're just not taking that ride with them."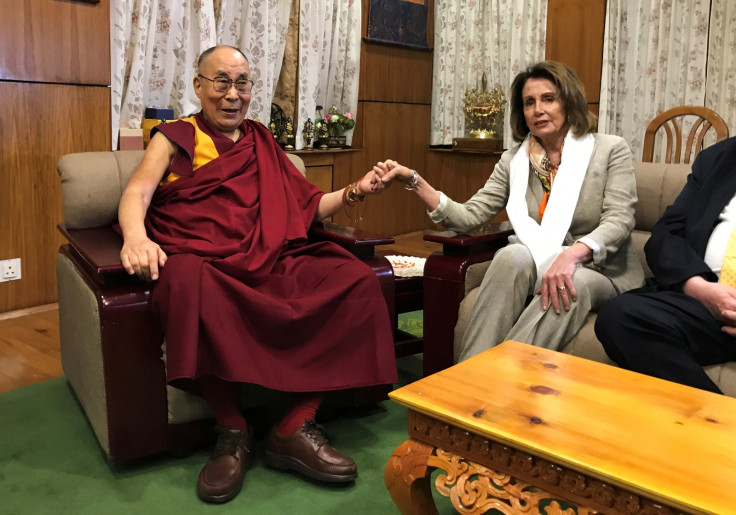 Pelosi and her delegation's meeting with the Dalai Lama comes at an awkward time for the US president, who has to currently depend on China to restrain the nuclear-armed North Korea from pursuing its missile programs.
China has been ramping up its rhetoric against the monk in the recent times, and Pelosi rubbished them as was "a sign of weakness".
"They [the Chinese] have to recognize that there's a value to them in letting Tibet be Tibet in an autonomous way," she said.