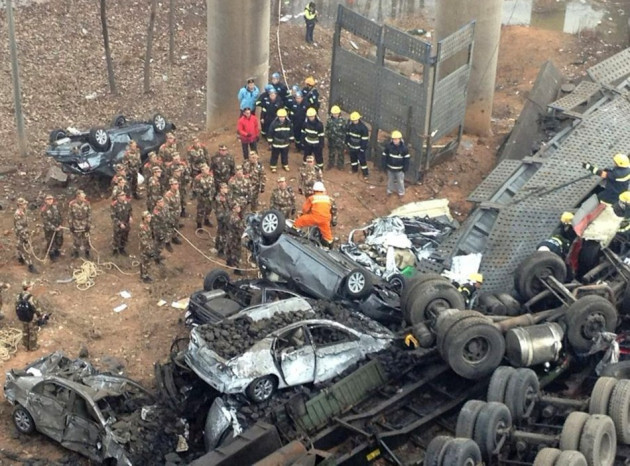 A truck carrying fireworks has exploded in central China, destroying the bridge it was crossing and killing at least five people.
The truck "suddenly exploded" and destroyed an 80m (262ft) section of the G30 expressway in Henan province, state media reported.
At least eight people are also thought to be injured after the explosion caused vehicles to plummet off the 30m high Yichang Bridge.
Early reports said as many as 26 people died as a result of the blast, but these figures have since been removed by Chinese news websites without explanation.
A Communist Party spokesman for the nearby city of Sanmenxia, Nie Jianyin, then cited provincial officials to claim that five people were confirmed dead.
Rescue workers were pictured clearing through the debris to search for people trapped under the rubble. The official Xinhua News Agency said only six of the 25 vehicles smashed in the collapse had been recovered.
Central Chinese television news said investigators are looking into the possibility the bridge collapse triggered the explosion of the truck, rather than the other way round.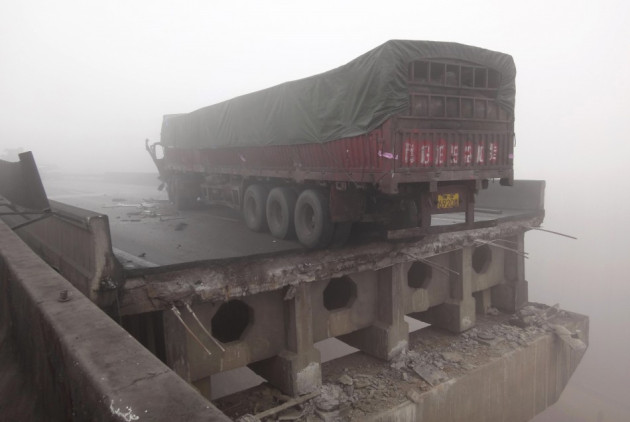 Fireworks are a huge part of the Chinese Lunar New Year, which is due to take place on 10 February. Over the years there have been a number of accidents across the country after the explosion of fireworks being transported or stored in preparation for the celebrations.
In 2006, during the first day of Lunar New Year, 36 people were killed when a storeroom containing fireworks exploded at a temple in Henan.
In 2000, an unlicensed fireworks factory exploded and killed 33 people, including 13 primary and secondary school students working there.