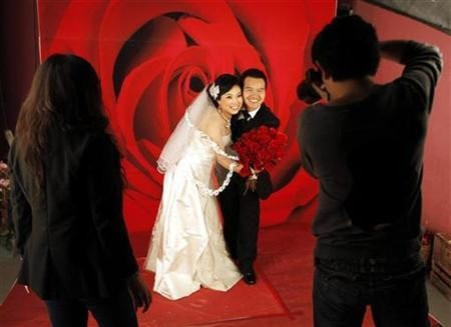 It is literally two jobs rolled in one: Factory manager and wife. And the qualities needed for both roles are listed in a job advertisement at a job fair in China.
Businessman Chen Jinrong, 67, has placed an advertisement for a female manager to run his rubber factory as well as to marry his son Chen Diyang, 38. The job entails managing the factory and looking after Diyang, who divorced about 10 years ago.
So what are the qualifications? The female boss needs to be 38 years or under. She must be a junior high school graduate or above and be hard-working, and have computer and management skills, the job ad says.
She can be divorced or have children, the ad continued. Diyang who has a daughter with his ex-wife has been managing his father's factory for years. Describing him as a capable manager, his father , who comes from Taizhou in Zhejiang province in eastern China, said Diyang is limited by his lack of education, and computer and social skills, Chen senior explained.
"I have watched my granddaughter grow up in the past 10 years, but my son seems never matured and he doesn't take the initiative in anything," Chen senior said. He told Zhejiang Online that he wants a woman who can take care of both his son and his business.
So what how has the response been? Surprisingly, several candidates have already shown interest since the job advertisement was posted on 8 March.
Diyang however does not seem to overly keen on his father's initiative in finding him a wife. "I know my father is doing this for my own good, but marriage is more about finding the person I like," he was quoted as saying.