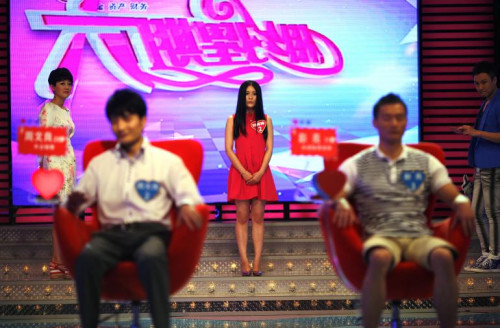 As the Chinese New Year prompts the country to consider 2014's auguries, hundreds of Chinese women are dealing with the stigma of being classed as "sheng nu" or "leftover women".
The term "sheng nu" was first used by the All-China Women's Federation (founded by the Communist party in 1949) in 2007, to explain that a leftover is an unmarried woman over the age of 27.
A more denigrating label is "female PhD", a term which refers to women who are studying for or have completed a doctoral degree. Instead of denoting intelligence and accomplishment, this expression is used in China to criticise women who pursue a higher education and sacrifice femininity and attractiveness.
According to an article published by the All-China Women's Federation in 2011:"Pretty girls don't need a lot of education to marry into a rich and powerful family, but girls with an average or ugly appearance will find it difficult. These kinds of girls hope to further their education in order to increase their competitiveness.
"[...] Many highly educated 'leftover women' are very progressive in their thinking and enjoy going to nightclubs to search for a one-night stand, or they become the mistress of a high official or rich man.
"It is only when they have lost their youth and are kicked out by the man, that they decide to look for a life partner. Therefore, most 'leftover women' do not deserve our sympathy."
The pressure on single women to find a partner is probably due to the vast imbalance between women and men, because of the one-child policy that led, throughout the years, to selective abortions as a son was preferred over a daughter.
National Bureau of Statistics data showed that there were about 20 million more men tthan women under 30 in 2011.
According to Sun Mei'e, deputy director of the Shanghai Women's Federation, the "problem" of single people may be due to multiple factors, including a lack of channels for meeting other singles at work; the tradition that stresses men must be financially stronger than women in a marriage at a time when women's economic power is growing; and a shortage of good matchmaking agencies.
Some Chinese local governments organise matchmaking events, which can become "marriage fairs" as explained by People's Daily, according to which every week, over 500 aged people in their 50's and 60's, carrying the information about their unmarried children, gather in the parks to talk about love and marriage.