Seven gay and lesbian couples from China were married in West Hollywood after winning an online competition. The couples were selected by the public from among more than 2,000 who submitted videos detailing their love stories.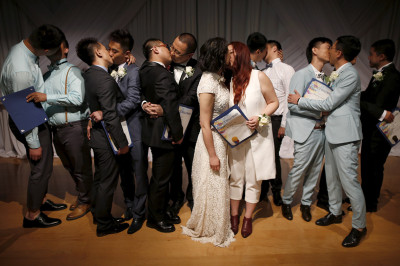 Ten couples were chosen by users of Taobao, a popular Chinese online shopping site similar to eBay and Amazon, but only seven managed to get visas. The contest was also sponsored by Blued, a Chinese gay chat and dating app.
West Hollywood Mayor Lindsey Horvath officiated at the group wedding, and transgender activist Coco Lachine served as bridesmaid.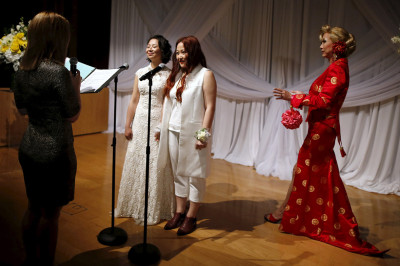 While these couples' marriages are recognised in California, which legalised gay marriage in 2013, their unions will not be legal in China. Homosexuality was decriminalised in 1997, but China does not allow gay marriage.
"Because we are both the only son in our family, in Chinese tradition, the family needs us to procreate and continue the family line. They want us to follow that path," said Hu Zhidong, 32, who met his partner, Liu Xin, also 32, at a party where they found out they shared the same birthday.
During the ceremony many of the couples shed tears as they recited their vows in both English and Chinese.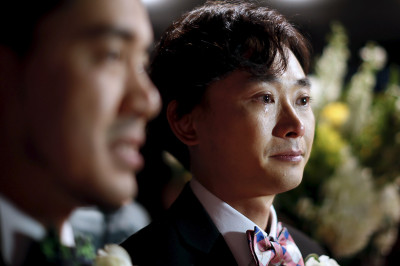 Geng Le, founder and chief executive of Blued, said that while many online media outlets in China were interested in covering this event, Chinese television stations might hesitate, because homosexuality was still a sensitive topic there.
"I hope today's marriage can make the Chinese media and society be aware of the missing part in the law that gay couples cannot get married in China. But in a lot of states in America, they can. I hope China could expedite this step," said Geng.
He continued: "The biggest challenge they are faced with is the lack of acceptance and discrimination from family and society. But young people are getting more and more brave. And the society is becoming more and more open. When Ireland recently voted on the same sex referendum, it was reported on by the national media in China. So the progress has been pretty quick."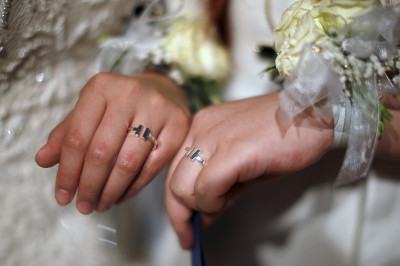 Xu Na, 29, and Xue Meng Yao, 21, the only lesbian couple participating in the ceremony, said the opportunity to use this event to come out was important.
"I hope [our marriage] is an encouragement to others. I hope they can get braver and everyone can find his or her happiness. I hope everyone can marry his or her loved one," said Xue.