Chinese New Year 2014: China Urges Firework Ban as it Grapples Smog Crisis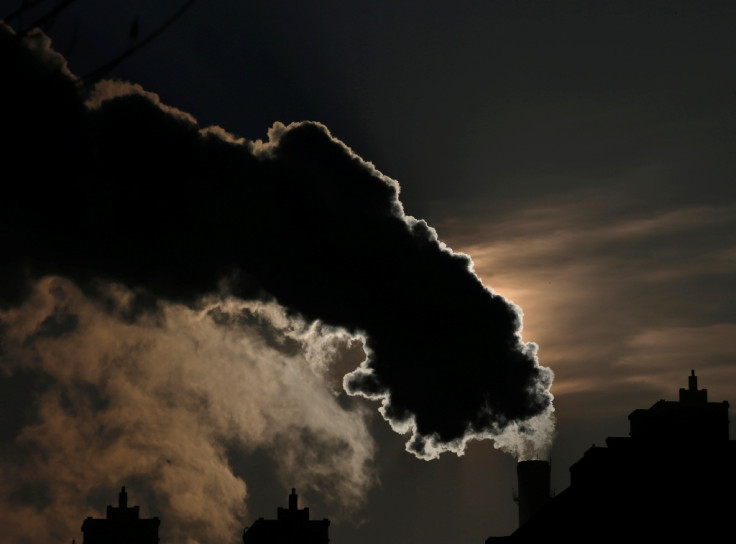 The Chinese government is urging people to ring in the Year of the Horse without fireworks, in an effort to curb the pollution which threatens to derail the country's economy.
In an editorial, the state-run China Daily newspaper said "it should be common sense" that people celebrate the new year "without coughing and spluttering on the after-effects of fireworks."
The country's weather forecaster is also demanding a ban on fireworks, and the Beijing Consumer Association has suggested flowers as a substitute to firecrackers.
Earlier in the month, the capital recorded an air pollution reading of over 20 times the limit considered healthy by the World Health Organisation (WHO). That day was the worst day for pollution since January 2013's "airpocalypse".
Looming Labour Crisis
Expats are leaving, especially after former health minister Chen Zhu and other authors noted that between "350,000 and 500,000 people die prematurely each year as a result of outdoor air pollution in China."
The death toll almost equals the population of Bristol.
Research has estimated that the average life expectancy in North China has dropped by five-and-a-half years owing to air pollution arising from coal-fired power plants.
Untimely deaths come as the world's most populous nation faces a looming worker shortage. While Beijing has eased its one-child policy to bolster the labour pool, experts are worried that China may grow old before it gets rich.
Tourism Takes a Hit
Tourist inflows into Beijing dropped some 50% in the nine months to October 2013, from a year ago, as global media outlets highlighted China's smog woes.
The first half of 2013 witnessed a 4.2% drop in the number of inbound tourists to China, reported the Beijing Youth Daily, citing data from the Beijing Municipal Commission of Tourism Development.
Destruction of Smog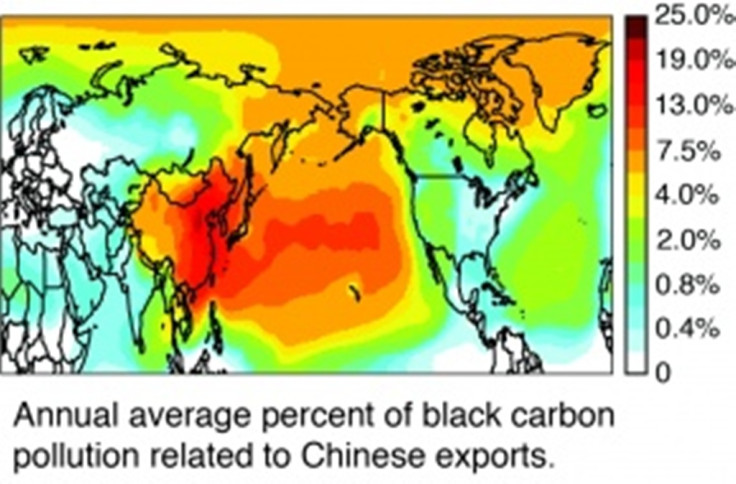 China Exports Air Pollution to the US west coast.
UC Irvine
Air pollution is a complex issue, one that is constantly evolving, and China is grappling with atmospheric knowledge.
Meanwhile, pollution from its manufacturing empire, has found its way to the US west coast, according to findings by the University of California, Irvine and other researchers.
Steven Davis, a co-author of the study and an earth system scientist at UC, Irvine said in a statement: "Given the complaints about how Chinese pollution is corrupting other countries' air, this paper shows that there may be plenty of blame to go around."
Clearing China's skies will cost the nation a whopping 1.75tr yuan (£176b, $291bn, €213bn) between 2013 and 2017, estimated Wang Jinnan, the deputy head of the Chinese Academy for Environmental Planning.
That figure would be higher than the 2012 gross domestic products of Finland, Portugal and Israel.
To tackle air pollution, China will have to move away from the top-down approach adopted thus far. What worked for the West may not work in Beijing or elsewhere in the country.
The Chinese government will have to let the market fix on the best technological response in the fight against air pollution. In tandem, Beijing will have to enact tougher laws to battle the crisis.
Chris P Nielsen and Mun S Co, co-editors of Clearer Skies Over China: Reconciling Air Quality, Climate and Economic Goals, estimated that "a modest tax on carbon dioxide, starting small and rising to about $10 per ton in 2020, could sharply lower the growth of emissions with little effect on GDP growth and consumption over the long run.
"In the short run, some energy-intensive industries and segments of the population would incur losses, but the tax revenues offer a source for compensating them during an adjustment period."
"... the same tax would prevent as many as 89,000 premature deaths a year from pollution by 2020, and even improve crop productivity. A larger tax, of course, would bring greater benefits," the report stated.
© Copyright IBTimes 2023. All rights reserved.