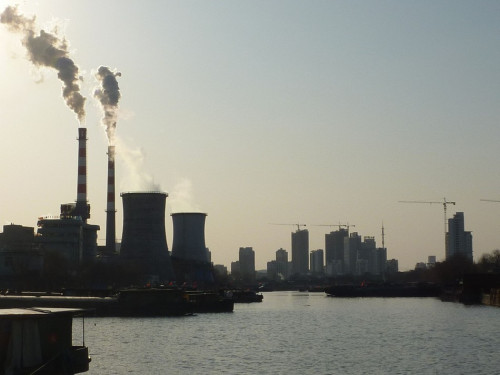 China's soaring energy demand, in line with its unprecedented economic growth over the last three decades, is expected to be a major stumbling block for authorities who want a more balanced economy.
China is currently the world's fastest-growing major economy with annual gross domestic product growth rates averaging 10% for the last 30 years.
Energy demand in China has accelerated dramatically over the past few decades in line with the country's rapid industrialisation, making it one of the biggest manufacturing centres in the world.
In turn, this has enabled it to also claim the dubious position as the world's the largest producer of carbon emissions, and therefore polluter, as its consumption rises for oil, coal and gas.
As China enters the New Year, authorities will have to seek new measures one how to address two key problems related to the energy sector – how to meet the rising demand for energy in an affordable manner and how to tackle the growing problem of pollution.
Rising Demand
World energy demand is forecast to increase by 41% between 2012 and 2035, with growth averaging 1.5% each year, according to a report by British oil giant BP. Of the global energy consumption growth, 95% is expected to come from emerging economies, including China.
According to the report, China's energy production will rise 61% by 2035 while consumption will grow by 71%. China's share in global demand will increase from 22% to 27% in 2035, and the country's import dependence will rise from 15% to 20%.
China is expected to overtake the US as the world's largest oil consumer by 2027 and Russia as the world second-largest gas consumer by 2025, the BP report said.
It added that the Asian country would also exceed Europe to become the largest energy importer in the world by 2035.
In addition to being the most populous country, unprecedented economic growth has increased its energy needs.
China's rising middle class, whose income is steadily increasing, have helped the automotive sector with increased car purchases. China is now the world's biggest auto market by number of vehicles sold.
The country's increasing urbanisation is also found as another reason for skyrocketed energy consumption.
China's liquid fuels use is expected to grow by 13% between 2011 and 2014 to more than 11 million barrels per day, according to the US Energy Information Administration (EIA). Meanwhile, oil production in China is expected to increase by 6% over the period.
Meeting Demand amid High Cost of Production
The world's second-largest economy sourced most of its energy needs internally until the late 1990s. However, an economic boom increased its oil demands, beyond its production capacity, and forced the country to import oil in large quantities.
Furthermore, the country's decision to go for external suppliers came amid reports that production from domestic sources would decline in the near term.
In order to meet this demand, China has started to import heavily from oil-rich countries such as Saudi Arabia and Iran. China's crude oil imports are expected to climb 7.3% and account for 58% of the country's total consumption in the near term, according to China National Petroleum Corp (CNPC).
Oil imports have often become costly due to the rise in fuel prices in the international market.
A recent survey of oil and gas industry professionals in the Asia-Pacific region found that they are pessimistic about achieving their profit goals for 2014 given the rising operational costs and oil price volatility.
In the survey, 41% of respondents believe that the overall increase in operating costs is the biggest obstacle to the growth of their business.
Overseas Acquisitions
In addition, China's Communist leaders are also concerned that this increasing dependence on imports could prove to be a strategic weakness and so the country is actively backing the acquisition of overseas oil and gas assets by domestic companies.
Chinese companies have completed 83 overseas oil and gas purchases worth $100.7bn (£60.7bn, €73.7bn) in the past five years, according to data compiled by Bloomberg.
Cnooc's $15.1bn acquisition of Canada-based Nexen early in 2013 was China's largest overseas acquisition.
PetroChina, China's largest oil and gas producer, agreed to buy Brazil-based energy firm Petrobras' oil and gas assets in Peru for $2.6bn.
PetroChina is looking to invest $60bn on overseas acquisitions over the period to 2020. By that time, the company intends to raise its production abroad to more than 50% of its total.
PetroChina's government-owned parent, China National Petroleum, already owns and operates oil and gas assets in Peru as well as in Venezuela.
Over the last five years, Sinopec and CNOOC, the country's second and third-biggest oil and gas producers, spent $41bn and $26bn, respectively, on overseas assets.
Trading Relations
China also looks to ensure ample oil supply with its strategic ties.
Previously, China and Russia signed an agreement under which Russia would supply an additional 10 million tonnes of crude oil per year to China through Rosneft, over the next 10 years.
China also has its oil trading relationship with oil-and-mineral-rich Nigeria after it struck a deal to provide a $1.1bn low-interest loan to the African nation for infrastructure development.
On his trip to Africa a few months before, Chinese President Xi Jinping visited resource-rich nations in the continent, including the Republic of Congo, Tanzania, and South Africa.
Shale Gas Development
While it is not looking to compete with rival US in the area of shale gas, which is known as the future for a flut of energy supply, China is keen in making use of the new technology.
The exploration of shale gas brought on a revolution and is changing global energy picture, says the International Energy Agency (IEA).
In 2013, China produced more than 2 million cubic meters of shale gas per day. By 2030, unconventional oil and gas production is expected to account for one-third of the country's total production.
China is investing more into shale gas and fracking research as it looks to increase national strategic reserve of energy.
According to the BP report, shale gas supply is dominated by North America, which is predicted to account for 99% of shale gas supply until 2016 and for 70% by 2035.
China is the most promising country for shale growth outside North America, accounting for 13% of world shale gas growth. Together, China and North America will account for 81% of shale gas by 2035, the report said.
Carbon Emissions
Even if the country is able to meet its demand, rising amount of carbon emissions is another problem for the economy.
China's environmental ministry has earlier described the country's environmental situation as 'grim'.
Despite the advance of renewable energy in China, fossil fuels still remain the largest source of power generation.
While wind power generation rose by 8 gigawatts and solar power generation rose by 3.6 gigawatts during 2013, power produced using fossil fuels exceeded wind energy by six times and solar by 27 times in the same period, according to China National Energy Administration.
Roughly two thirds of China's power in 2030 is expected to come from fossil energy, the vast majority of it coal. Coal currently provides about 70% of the China's energy.
Environmentalist claim that such an increase in the use of fossil fuels and rising carbon emissions would result in an unmitigated climate disaster.
Higher car sales in the country are adding to its pollution worries.
The country is targeting increased use of electric vehicles to address pollution, but is lagging behind its target to have 5 million alternative energy-powered vehicles by 2020, according to Bloomberg.
Tackling pollution has been a priority of the Xi administration.
However, the government has already pledged to commit to reducing its carbon emissions per unit of GDP by 40-45% by 2020, from 2005 levels via the increased use of renewable energy.
Consumption-Led Growth
Despite China's stellar economic growth, the global financial crisis did impact the country.
Its economic growth has slowed down in 11 of 14 previous quarters.
For the full year 2013, the world's second-largest economy grew 7.7%, unchanged from 2012 and the slowest pace of growth since 1999.
China's authorities now want the country's growth to be based on strong domestic demand rather than exports.
Consumption-led growth is expected to result in additional energy demand, which would turn the country's attention to shale gas and renewable energy sources as it tries to cope with the affordability and efficiency issues with energy use.