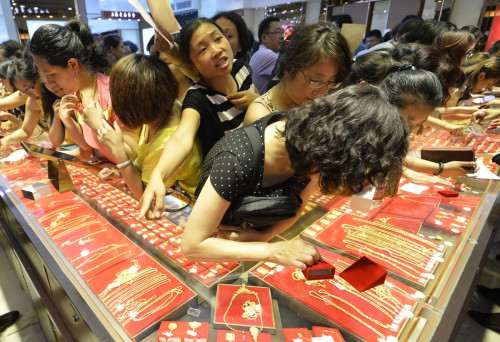 Chinese New Year 2014 has boosted China's jewellery sales as the Year of the Horse is deemed auspicious for weddings and having babies.
According to a number China and Hong Kong-based jewellers, customers are forking out most of their monthly salaries to snap up gold pendants, necklaces and rings that bear the resemblance of a horse.
"Older people believe gold brings good fortune and keeps its value," said Jiang Xue, an accountant who was shopping at Hong Kong-based Chow Tai Fook, which reports a 26% rocket in sales during the three months through December 2013.
"Gold gifts for children teach them about investment from a young age."
According to Bloomberg, Jiang handed over half of her monthly pay packet to snap up a $690 present for her mother and was on her way to another store to buy small gold horse charms for her nieces and nephews.
Hong Kong and mainland China jewellery stores have reported a surge in their share prices over the last three months of 2013 after Chow Sang Sang Holdings International, Luk Fook Holdings International, Lao Feng Xiang Co. and Zhejiang Ming Jewelry Co. surged 5.9%.
During this time, the gold price dropped 9.3% and fell a further 1.7% this month while bullion advanced 4.8%.
Experts say that jewellery sales were further helped by, the drop in gold bullion prices has led to relatives snapping up gold pendants, necklaces and rings and for their families.
"The gold price and jewellery sales in China move in opposite directions," said Yang Chunyan, analyst at Orient Securities.
"The more gold prices drop, the more Chinese aunties buy."
"Lower gold prices give an extra boost to demand. Sales of gold gifts typically accelerate in the two weeks leading up to the lunar new year and have really taken off."
India, Indonesia, Vietnam and Greater China, including Hong Kong and Taiwan, are the largest consumers of gold jewellery and bars in the world.
According to a report by HSBC, demand for these products in these regions accounted for about 60% of the global total in 2013 from 35% in 2004.