The Spring Festival holiday travel rush is on in China. Millions of people are making their way home for family reunions to celebrate the Lunar New Year in the world's largest annual human migration. Many of China's 1.3 billion people work in big cities hundreds of miles from their home towns, and the week-long national holiday is the only time in the year that they will see their families.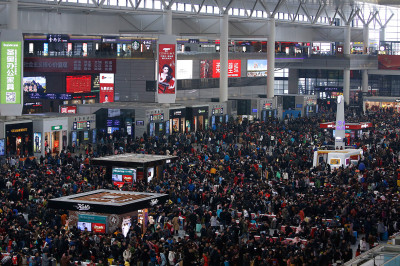 When the 40-day travel frenzy ends on 3 March, the estimated total volume of passengers is expected to reach more than 2.91 billion, an increase of 3.6% on last year. There will be about 2.48 billion journeys by road, 332 million by railway, 54.55 million trips by air and 42.8 million by water during this period, according to official estimates.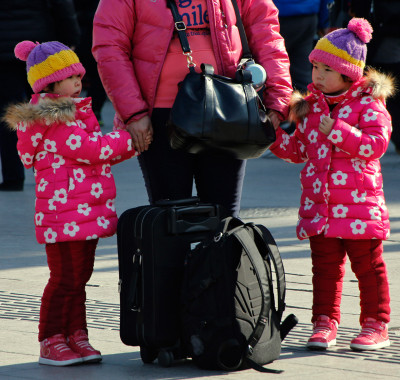 China Railway Corporation says it plans to run nearly 15 percent more trains this year than it did last year, but many travellers said they still had trouble getting tickets for the days they wanted.
Heavy snow added pressure onto an already overloaded system as thousands of passengers were stranded at railway stations in Shanghai and Hangzhou. In central China, airports also faced problems, with the airport in Wuhan reporting the cancellation of 67 flights on Sunday (31 January). Along with trains and flights being delayed, numerous motorways were blocked by heavy traffic.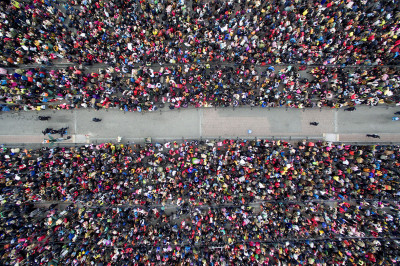 Chinese families traditionally get together for a reunion dinner with their loved ones on New Year's Eve and let off fireworks in the streets.
The New Year, also known as the Lunar New Year or the Spring Festival, is marked by the lunisolar Chinese calendar. This means the date changes every year, but mostly falls between 21 January and 20 February in the Gregorian calendar. Festivities usually start the day before the New Year and continue until the Lantern Festival, celebrated on the 15<sup>th day of the new year.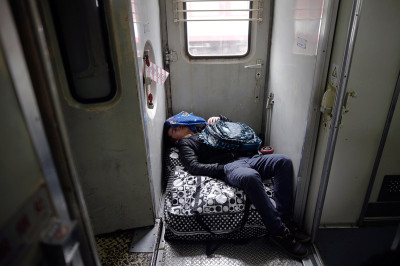 This year will welcome in the year of the monkey, part of an ancient tradition in which the Chinese zodiac attaches animal signs to each lunar year in a cycle of 12 years. The Chinese zodiac is separated into 12 blocks, each of which have a time-length of one year instead of one month like the western equivalent. The monkey is the ninth animal in the cycle, which will not take place again until 2028. Next year will mark the year of the rooster.