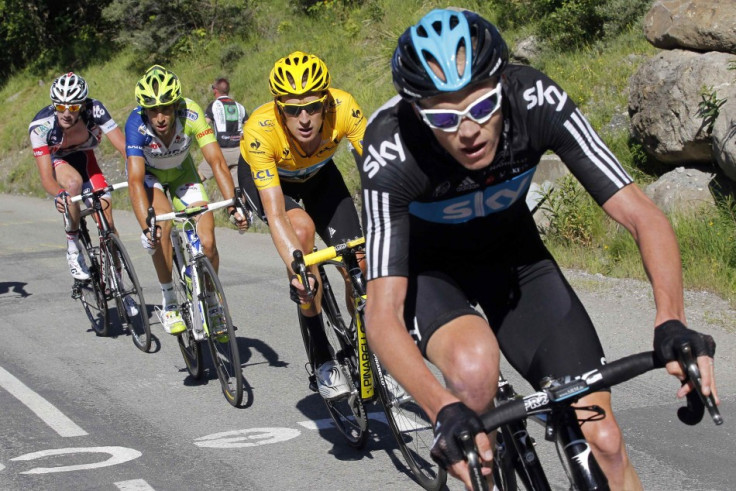 Team Sky domestique Chris Froome is committed to supporting yellow jersey holder Bradley Wiggins for the remainder of the 99th Tour de France despite moving into second in the general classification after stage 12.
Froome led the break from the peloton, with Wiggins in close quarters, and even made a surge in the closing stages in his own to attempt to eat into his lead.
But team orders dictated Froome's movements for the remainder, as he re-joined Wiggins, whose lead is now two minutes and five seconds, following Cadel Evans' wretched stage which saw him fall back to fourth overall, behind Vicenzo Nibali.
"I'll follow orders at all costs. I'm part of a team and I have to do what the team asks me to do," Froome said.
"Our plan is to look after Bradley. He's just as strong as me, I think, and stronger than me in the time-trial.
"I'm part of a team and I'll do what I need to do."
Froome's sudden change of emphasis appeared to be a clear intention to not only cement his second place in the general classification, but also to cut the lead of Wiggins, which went over the two minute mark as reigning champion Evans ran into problems.
However, according to Wiggins, miscommunication lead to Froome making the break, which had left Wiggins stranded.
"At that moment I was just really concentrating on my effort and keeping it constant," Wiggins said.
"I'd been riding for 1.5km, 2km before that. I just wanted to clear the lactate and didn't want to make any more of an acceleration.
"There was a lot of noise and a lot of things going on on the radio and a bit of confusion at that point as to what we were doing.
"I think he (Froome) showed today he had the legs, certainly. It was another great day for the team."
Team Sky sports director Sean Yates said of Froome's attack: "We want to try and win the Tour, we don't want to spin the roulette wheel."