A loss to the champions isn't a disaster....
Taken in isolation, a 1-0 defeat at the hands of the side that were lifting the Premier League trophy last May does not make for an acopalyptically terrible day at the office for Manchester United, even if it was at the hands of their dear neighbours.
Throw in the fact that the visitors played over 50 minutes with ten men, and you'd be safe in assuming that perhaps the scoreline should have been more emphatic for Manuel Pellegrini's men. As it was, perhaps United should feel a touch unlucky; they were on the front foot for the last 15 minutes as they searched for an unlikely equaliser. A sharper Angel Di Maria shot here, a firm header from Marouane Fellaini there, and a draw wouldn't have been undeserved.
The defending was frequently last-ditch, predictably, as City wore the visitors down with the man advantage, but United held on, and gave themselves a platform with which to stage a fightback. Whilst it ended fruitlessly, there's a growing sense that Louis van Gaal now has a side that refuses to know when it's beaten.
Wayne Rooney had a productive re-introduction to the side, adding trademark bite and bark but also vital drive from midfield, and Michael Carrick was his useful calming, controlling influence during his first appearance of the season. Paddy McNair was again solid and belied his young years during his substitute appearance, so whilst the bottom line was certainly negative, positives were not completely absent.
....but United are still some way from the finished article
Since the resumption of the Premier League after the last international break, United have yet to win or take the lead in three games. Granted, two of those opponents featured in last season's eventual top three, but these games against Chelsea and Manchester City have shown that this team is taking forwards and backwards steps in relatively equal measure.
Yes, the grit shown even with a numerical disadvantage was heartening, but Chris Smalling's senseless bookings and subsequent red card made an already difficult occasion all the more difficult to manage. Far too often, United are undermining themselves by making poor defensive decisions that put them on the back foot, and until these all-too frequent lapses are banished, progress will continue to be slow.
If anything, a result like this casts even further negativity onto those defeats to Swansea and Leicester, or the dour draws against Sunderland and Burnley. Had United picked up a few more wins from those situations then the outlook would be a shade brighter. As such, a sending off borne of foolishly blocking Joe Hart's goal kick and sliding in on James Milner, looks just as Van Gaal said; "stupid."
This unintentional undermining isn't new, either; Rafael and Robin van Persie were both culpable for Didier Drogba's headed goal last weekend, and Phil Jones and Luke Shaw were the culprits for goals against West Bromwich Albion. The question, is how long will these errors continue for?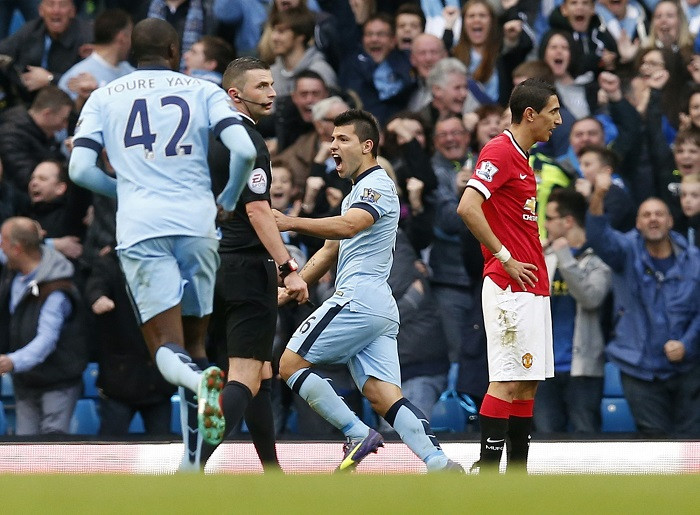 City deserving of their bragging rights
Comfortingly, there still exists a gap of 20 wins between United and City in this derby's all-time history, but the worrying thing for the red half of Manchester is how dominant their local rivals are becoming in this fixture.
City have now won four derbies on the bounce, and six of the last seven in the league. It's no accident; Pellegrini has seemingly adapted to the pressure of this derby better than any manager in City's recent history, and his team are responding with great shows of strength, resilience and power, even if they did end today's meeting with something of a nervous flutter.
They have become the team that is expected to win these matches, and that's not happened by accident.
Injuries mounting for Van Gaal
Antonio Valencia was perhaps the biggest surprise in United's starting line-up, slotting in at right back for the absent Rafael. The reason? Van Gaal confirmed that he had suffered an injury in training on Thursday, in the same environment that has seen most of his defensive colleagues in recent months seek the treatment table.
Just to make matters worse, Marcos Rojo left the Etihad with a suspected dislocated shoulder after an ill-judged challenge on Martin Demichelis. Given how few options are available to the Dutchman at present, losing the Argentine is another blow at a time when United need all hands to the pump.
This is a back four has been reshuffled on an almost weekly basis due to injuries, and one can't help but wonder how this season's opening 10 games would have gone had a settled defence been fit and available.
Is it all doom and gloom for United after 13 points from ten games?
It's already been suggested that searching for positives in defeat is a fine indication of how low the expectations of United fans have fallen in these last two seasons, that a derby defeat is not greeted by anger or inquests but softening acceptance.
One thing is currently inescapable; a return of 13 points from 10 league games (United's lowest at this stage since 1986/87) is poor, given the quality the club possess, and there is simply no hiding from that. Bottom line is that if this team are going to finish inside the top four this season then they must start turning battling performances into victories. And talk of challenging Chelsea for the title seems incredibly premature given the clear disparity in those sides' ability to pick up results.
But then, of course, there's more to it than that. Some would hasten to compare Van Gaal's start to life at Old Trafford to David Moyes' reign, which is all well and good, but it misses the point. United look like they're capable of more, far more than they did under the Scot's stifling tactics and negative approach; they have simply yet to fully show it.
They're scoring goals (excluding this match), they're creating chances and look a threat to any defence that the Premier League can offer; all too frequently these were things you could not say about this team under the former Everton manager. This defensive instability and these lapses are causing serious issues, but once they're solved, this side could be formidable.
Moyes' predecessor will not be in the least bit satisfied with United's current position, and he will be all-too aware of the need to start picking up points on a consistent basis in order to make a sustained challenge for a Champions League place. Next Saturday's match at home to Crystal Palace is as good a time and place as any to start.
The article was provided by Red Mancunian, one of the most popular Manchester United fan accounts in the world. You can follow them on Twitter here or go to www.redmancunian.com.