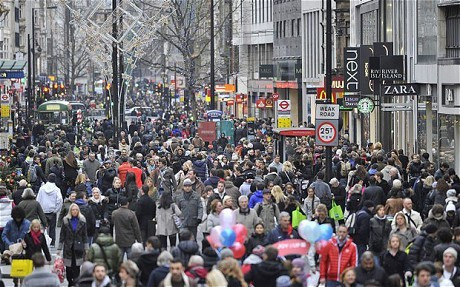 "Ding dong merrily on high, in towns the tills are ringing," as the Christmas carol sort of goes, is the festive ideal for Britain's beleaguered retailers, who have been suffering the frosty bite of a bitter winter on the High Street that has dragged on for the past five years.
Domestic recession, global economic crisis, and a sustained period of weak consumer confidence has snowed on the retail sector since the first dark clouds of financial collapse overshadowed the world in 2007.
"For most retailers Christmas is always the most important time of year. It's particularly crucial this year," said Richard Dodd, head of media and campaigns at industry association the British Retailers Consortium (BRC), in an interview with IBTimes UK.
Retailers were told to expect a significant boost in demand because of the London 2012 Olympic Games and the Queen's Diamond Jubilee, but there were no gold medals on the High Street despite Team GB producing the country's best haul in over a century.
Footfall in key parts of the retail economy, most notably London's fashionable West End, dropped during the Olympics as much of the usual commuting consumers evacuated the city amid prophecies of a transport apocalypse, choosing to work from home instead.
Not only this, but spring and summer saw record levels of rainfall in some parts of the country, dampening sales as consumers chose to stay at home and keep dry.
"Retailers will be really hoping to make up some lost ground and do some decent business in the run up to Christmas in order to meet their own costs, many of which have been going up," said Dodd.
For some of the smaller contenders in the market, without vast capital reserves, this will be a life-or-death period of trading. Not all will survive.
Retail sales plunge after financial crisis
Official figures show how the growth in retail sales volume has shrunk significantly from before the financial crisis.
In 2007, the Office for National Statistics (ONS) report retail sales volume grew by 3.1 percent on the year before.
By the next year, the seasonally adjusted figure was just 0.9 percent higher. In 2010 it had declined by 0.4 percent.
Most recent data shows that in the second quarter of 2012 retail sales volumes were just 1 percent higher than a year before.
Given the fact Britions spend around £6bn each week on the High Street, the difference in gains on a monthly basis is significant.
Volatile commodity prices have caused turbulence for retailers, whose base costs have risen along with the soaring price of goods such as crude oil, plastics, and metals.
The eurozone crisis and slowing global markets have helped drag the UK economy back into its second recession in four years, triggering job fears.
Wage growth has barely been close to the rising cost of living, with inflation reaching its crippling peak in September 2011 at 5.2 percent, eroding disposable income and strangling households who have had to rein in spending and prioritise the essentials.
As a result, demand in the retail sector has decline sharply, leaving many to go bust. Research from the Local Data Company found that 14 percent of shops on UK High Streets lay vacant, abandoned by retailers who could no longer weather the economic storm.
More would be empty if it were not for the pound shops and thrift stores infecting every town's High Street pores like pustules.
A BRC report noted that since the collapse of the investment bank Lehman Brothers in 2008, which marked the height of the financial crisis, retail sales growth stagnated at around half of what it was beforehand.
BRC policy wonks are calling for the government to freeze business rates in 2013 and scrap the planned fuel duty increase, to help support retailers in their struggle against the wider economic turmoil.
"Any successful economic fight back needs a return to strength for the retail sector," said Stephen Robertson, director general of the BRC.
"It's not enough just to talk about growth. We need the government to rebuild confidence, support customers and retailers and get spending going again by holding back the costs it is responsible for."
Online retailing no saviour
In recent years there has been sharp growth in online retailing, with its sales now representing around 10 percent of the whole sector.
As consumers were distracted by events in London 2012 on their televisions, online retailing suffered a lapse in sales, which helped dent the overall volume shifted in August.
Despite this advance of online, a trend that will continue for some time, there is little distinction to be drawn between the retailers on the High Street and those on the web.
Dodd said that stores will be with us "in one form or another for an extremely long time to come".
"It's wrong to think that there is a group of online retailers over here who are entirely separate from this group of tradition store retailers over the other side and that somehow one lot are expanding at the expense of the other, because actually, with a number of notable exceptions, most of the big online retailers are also store retailers," said Dodd.
"Certainly the biggest online retailer is Tesco, which is of course the biggest retailer over all.
"On the whole, what we have got is retail businesses selling to customers through a range of different channels and it isn't much matter top them which channel they use to sell to customers, so long as they're doing business with customers."
Of course there are notable exceptions, such as the difficulties being faced by some bookstores, DVD shops, and computer game outlets as online-only retailers erode physical stores' market share.
The two worlds of physical stores in town centres and those online are often merged in a consumer's retail experience.
They may pop into town to see items in real life and test them, or try on clothes to see what size fits, before heading home and trawling the internet for the best price rather than buy the item in the store that day.
"For many people shopping is a leisure activity and there are things they get from going around physical shops that they don't get from shopping online," said Dodd.
"Equally there are clear and obvious advantages to shopping online, in terms of the range of data and the range of retailers, of prices and products, which are available to you and the potential time saving from not having to walk around the shops."
You can also avoid any bad weather, Dodd added.
Cut costs in absence of demand
Because the retail sector's problem is on the demand side, which is informed by the macroeconomic picture, there is little they can do to solve the problem of making consumers want to come in and spend money.
Discounting, mostly exemplified by clothing stores, failed to lift sales volumes.
Instead retailers must laser-focus on bringing down their costs to maximise limited revenues.
"Inevitably it's about looking at what they're selling, stock levels, the variety of goods, the prices that they're charging, and then of course focusing even more closely on the efficiency of their own operations and minimising costs as relative to what they're selling," Dodd said.
"Apart from being really, really tuned in to what their customers want right now, what they are in a position to buy in the current circumstances ... essentially they are facing the same picture that they have been facing for a few years.
"There isn't necessarily a treasure chest of new ideas or innovative new approaches that retailers can dip into."
---
Follow @shanecroucher