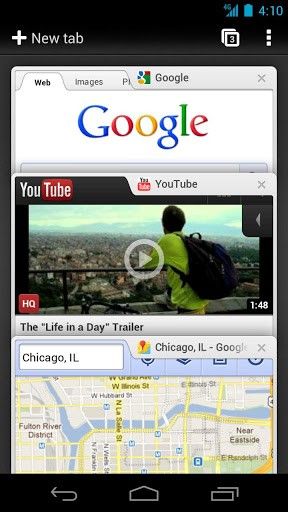 Chrome for Android has received an update which will reportedly bring several stability fixes and support for the recently announced Nexus 4 and Nexus 10, according to a post on Chrome Releases. The stable channel has been updated to 18.0.1025464 for ARM devices and to 18.0.1026320 for x86 devices.
This will be the first update for x86 devices. In September, Google released Chrome for Android on Intel x86 based devices. Hence, users of Lenovo K800, Orange San Diego, ZTE Grand X IN and the latest Motorola Razr i will now be able to taste Chrome for Android on their devices.
You can now download Chrome for Android from Google Play. The changelog on Google Play states the new "version update includes a number of stability fixes and performances improvements."
Interestingly, Chrome for Android is said to support newly announced Nexus 4 and Nexus 10 devices which are expected to be released on 13 November. Nexus 4 is powered by a quad-core processor from Qualcomm clocked at 1.5GHz and will ship 2GB of RAM. It will be available on the Google Play store on the 13 November in the US, UK, Australia, France, Germany, Spain and Canada. It features a 4.7in screen using the superior IPS technology with a resolution of 1280 x 768 pixels and pairs up a pixel density of 320ppi.
Nexus 10 features 1.7GHz dual-core processor, 2GB of RAM, five megapixel rear-camera, NFC, Bluetooth 4.0 and Wi-Fi connectivity.
Take a look at the release log of Chrome for Android M18.1 as stated on Google Play:
Location preference now integrated to system level Google apps location setting
YouTube videos controls now work in full screen mode; videos continue playing after a screen lock/unlock
Fixes to make third-party IMEs work better with Chrome