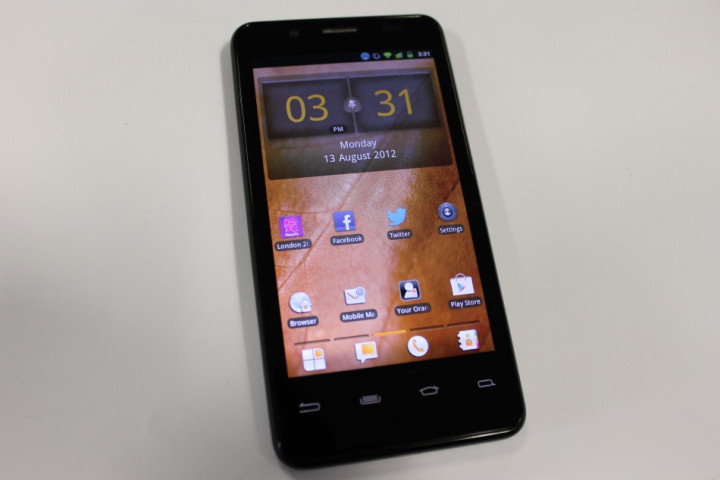 Key Features
4in screen; 600 x 1024 resolution; 297ppi
1.6GHz Intel Atom processor, 1GB RAM
16GB storage
8 megapixel camera with LED flash; autofocus; Full HD video
Price as reviewed: Free from £15 per month, £199.99 SIM-free
Orange San Diego: Introduction
Own-brand phones have never had the same appeal as phones from names we recognise, like Apple, Samsung and HTC. But, by teaming up with Intel to offer the chip manufacturer's first European smartphone, the Orange San Diego could be an own-brand phone worth taking seriously.
The vast majority of smartphones and tablets are powered by chips using ARM's low-poer chip architechture, but Intel is looking to grab a slice of this lucrative market by launching it's own low-power mobile chips.
The Orange San Diego is the first smartphone to be sold in Europe with an Intel processor, and while ARM-based chips now feature dual- and even quad-core processors, Intel has opted for a single-core 1.6GHz Atom processor for this phone, along with 1GB of RAM.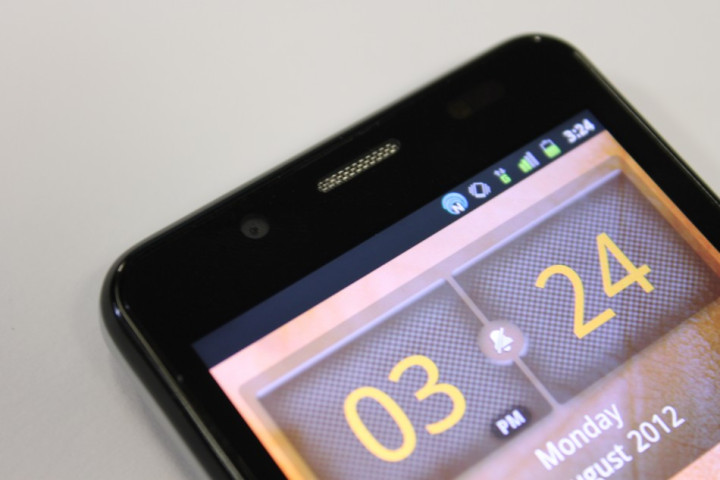 Produced by Intel and little-known Chinese firm Gigabyte, the San Diego is sold exclusively through Orange - with a very orange user interface to match - and is a 4in smartphone with more power than its single core and £200 SIM-free price lets on.
We first got hands-on with the San Diego at the phone's launch at the end of May, and we liked the excellent screen and how well the phone performed, despite its relatively low price.
Now we've had chance to live with the San Diego for more than a week, let's see if it lives up to its promise.
Orange San Diego: Design and Feel
What first struck us about the San Diego is how light it is, weighing 117g it's considerably lighter than the 140g iPhone 4S and 133g Samsung Galaxy S3 - and while not being as thin as these rivals, the San Diego feels compact enough, thanks to its slightly curved edges.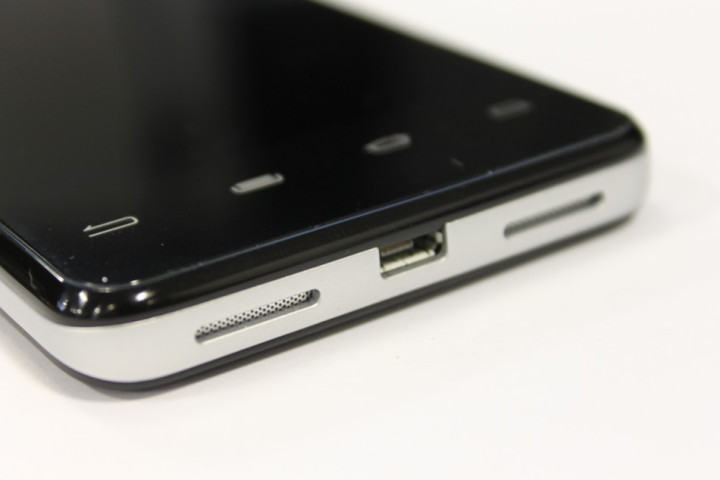 Intel has gone for a soft-touch black rubber back cover - which cannot be removed, so you don't have access to the battery - an entirely glass front, also black, and a black and silver plastic frame around all four edges.
The soft-touch back and curved edges makes the phone easy and comfortable to hold, and typing with one hand presents few problems.
That panel of Gorilla Glass protects the 4.03in display, a front-facing 1.3 megapixel camera, speaker, proximity sensor, and four touch sensitive, backlit buttons below the screen.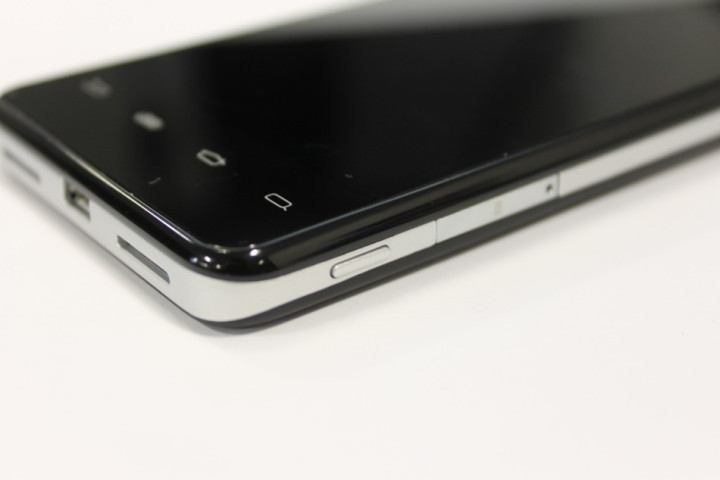 The top edge is home to a power/screen lock button with a very low profile, making it sometimes difficult to press, especially if you're holding the phone in one hand. Next to that is a 3.5mm headphone jack and a secondary mic to help cancel background noise when you're making a call.
The left edge is blank, save for a micro HDMI port, so the San Diego can be hooked up to an HD television to play films. On the right-had edge there's a volume rocker at the top, a microSIM card slot and finally a shutter button which also launches the camera app.
Along the bottom edge, there's a microUSB port with a speaker on one side and microphone on the other. Around the back, Intel has installed an 8 megapixel camera with autofocus and LED flash. Strangely, the camera is around 5mm off centre, which may sound irrelevant but it's something that you can't help noticing once you know that it's there.
Overall, the San Diego's design is somewhat forgettable and resembles a generic smartphone an advertiser might use when they're not allowed to use something obvious, like an iPhone.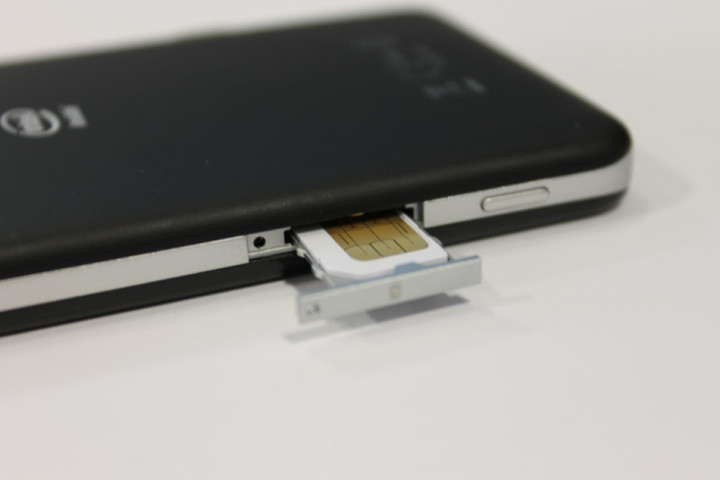 The Orange San Diego looks like a lot of other generic smartphones, with nothing much in the way of flare or character. The 123 x 63mm footprint is fairly large considering the screen size, mainly due to the wasted space above and below the touch keys under the screen.
The San Diego isn't ugly or badly designed, it's just a bit too bland and would disappear into the crowd very easily.
Orange San Diego: Hardware and Connectivity
As you would expect from any smartphone these days, the San Diego has Wi-Fi b/g/n, the ability to be used as a Wi-Fi hotspot for other devices to be connected to, and Bluetooth - although it is the older version 2.1 and not the newer, more energy efficient 3.0 or 4.0.
Again much like any other smartphone, the San Diego has HSDPA connectivity that can reach download speeds of up to 21Mbps where your mobile network will allow it.
The San Diego uses micro USB for charging and syncing, but also has a micro HDMI port on one side so you can connect the phone to your computer monitor or HD television to watch video stored on it.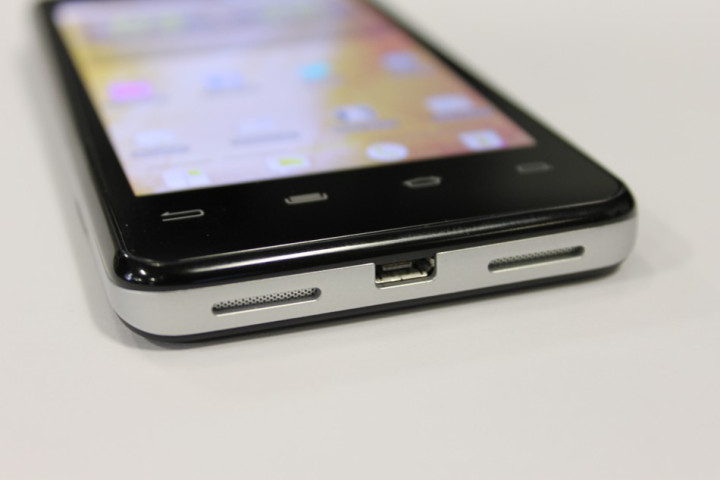 Inside, there's an accelerometer so the phone knows when to switch the display between landscape and portrait, a proximity sensor to turn off the screen when you hold the phone to your ear, and a digital compass and GPS chip for the maps app and sat-nav.
An NFC chip has also been included in the San Diego, and although Orange hasn't gone down the route of LG and Sony by including stickers that change phone settings with a tap, the French company has teamed up with Gemalto to develop a more secure SIM card-based NFC technology.
Orange hopes this method of providing a more secure way of using NFC will encourage widespread adoption of the technology to make contactless payments through apps like Google Wallet, when it finally arrives in the UK.
There's 16GB of internal storage - same as the cheapest iPhone 4S - but, as with the iPhone, there's no microSD card slot to increase that, which is a shame when the HDMI-out suggests a phone that is designed to carry loads of HD films and TV shows.
For a closer look at what NFC is and how it can be used, take a look at our in-depth NFC Focus features.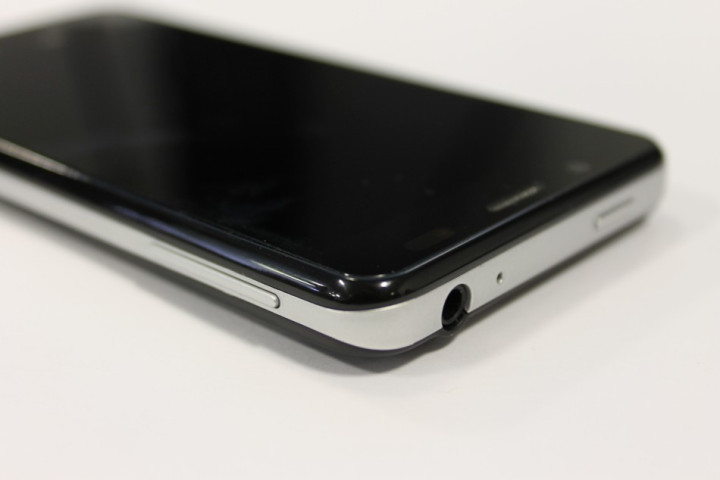 Orange San Diego: Operating System and Performance
The Orange San Diego by Intel runs Android 2.3.7 Gingerbread, which is a shame as we would have liked the newer Android 4.0 (Ice Cream Sandwich) out of the box, but Orange say an update will be available soon.
For the meantime, Gingerbread on the San Diego has been given the once-over by Orange to add an orange wallpaper, orange icons, an orange clock...you get the picture. This Orange bloatware was one of the main downfalls of the Orange San Francisco, this phone's predecessor as budget smartphone kingpin.
While it is still a pain, Orange seems to have toned it down a touch and it doens't hinder the phone's performance as much.
Of course, the wallpaper can be changed to whatever you like, and the orange digital clock widget can be changed to something else, but some of the network's marks remain, such as the apps, messages, phone and contacts icons.
With regard to performance, the San Diego handles gaming with ease, and app switching via a long press of the Home button is quick, with no signs of the Intel processor struggling to keep up.
One issue we found with the San Diego was its inability to always remember Wi-Fi networks. After a reboot, the phone would show a strong signal for our office network, but wouldn't always connect automatically. Instead, flicking the Wi-Fi off and on again seemed to fix this occasional problem.
Perhaps owing to its plastic and rubber construction, the San Diego gets noticeably warm during use. Light web browsing and social network use isn't a problem, but add some 3D gaming and multitasking, and the lower half of the phone - front and back - warms up quite a lot.
The temperature change is even more obvious when the San Diego is charging, although the same is true of most smartphones.
Orange has bundled a number of its own apps with the San Diego, including Orange Wednesdays for half-price cinema tickets, Orange Gestures which can assign a gesture - like drawing a circle on the screen - to opening an application, and Your Orange to keep track of your contract and tariff.
The excellent sat-nav application Navigon Select is also included with the San Diego, but don't think that Orange is giving away a £50 app for free, instead you'll be charged £5-a-month when you want to use the sat-nav application.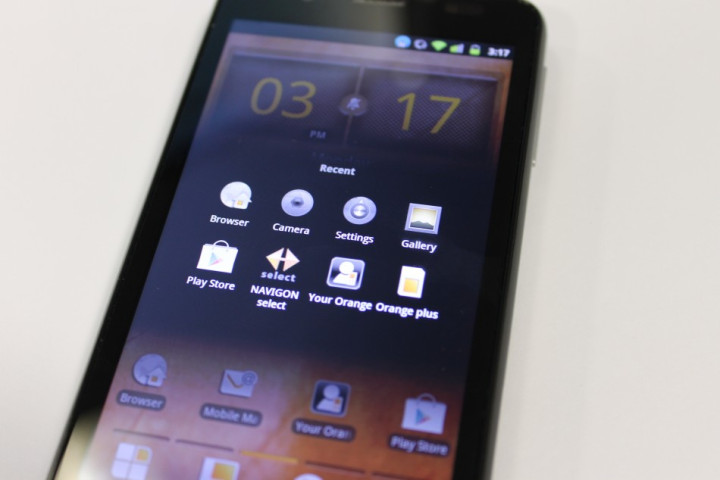 On the plus side, Navigon is a very good application and offers turn-by-turn directions without the need for a data connection, as the maps are all stored on the phone.
Other bundled apps include Dailymotion, Quickoffice and the media player Doubletwist, as well as the five from Orange, but none of these can be removed by the user, so you'll just have to put up with them taking away your storage space.
When Orange and Intel launched the San Diego earlier in the year, we were told that 95 percent of applications from Google Play will work right away with the Atom chip, with compatibility increasing in time.
Sadly, the BBC iPlayer app is not yet compatible with the San Diego, and neither is the hugely popular Temple Run game. It's a shame that incompatibility is an issue with some of the most popular applications and a brand new smartphone, so we hope Intel works to improve this situation quickly.
Finally, we found battery life to be very good and would expect the majority of average users to get two days of life out of the San Diego before needing a recharge. Indeed improved battery life is one of main features Intel is playing up with its new mobile chips and the San Diego is proof that Intel is moving in the right direction.
Of course, this depends a lot of how you use it - 3D gaming caused the phone to get hot quickly, which will no doubt drain the battery - but with the screen at around 60-70 percent brightness, with Wi-Fi and email sync on we'd expect two days more often than not.
Orange San Diego: Display
We were instantly impressed with the Orange San Diego's screen. Measuring 4in and offering a resolution of 600 x 1024, resulting in a pixel density of 297 pixels per inch, the screen isn't quite at iPhone Retina levels, but you'd be hard pressed to notice individual pixels - a good effort for a phone costing less than half the price of an iPhone 4S.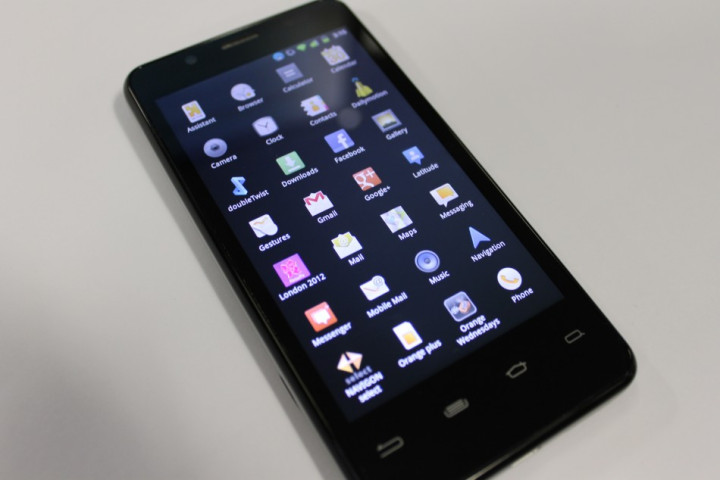 As for brightness, the San Diego isn't quite on par with the really high-end phones like the HTC One X or Galaxy S3, but there's really not much in it, and we rarely have our phones at full brightness anyway.
The San Diego's screen is evenly lit, with a neutral balance between being too warm and too cold and black levels are impressive, but colours suffer quite noticeably at wider viewing angles.
This is a small complaint and one we can't voice too loudly when talking about a £200 phone. So far, the Orange/Intel partnership is impressing us no end.
The screen is also nice and responsive, with both it and the Atom processor keeping up with our navigation around the operating system.
Orange San Diego: Camera
The San Diego has an 8 megapixel rear camera with 1080p HD video recording and a front-facing 1.3 megapixel camera that can shoot 720p HD video.
Considering the San Diego's price, these two cameras sound impressive, but are let down by the hugely complex camera application.
Android has always offered a healthy range of features and settings in its camera applications - compared to the overly-simple iOS app - but with the San Diego, Orange and Intel have made a mess of it.
Settings are accessed by a pull-out drawer on the left, but instead of user-friendly words you're greeted with 19 mostly indecipherable icons. Tap one at random and you'll be given yet more meaningless symbols and acronyms.
Our favourite - or most frustrating - was that tapping a face icon gave us the options of XNR, ANR and GCD. Surely only professional photographers would be able to work comfortably with this application.
There's the usual range of scene modes like Sports, Portare, Landscape and Night, as well as the option to adjust white balance, exposure, flash mode, ISO and zoom - even zoom is hidden behind an icon and pinching at the screen isn't an option.
Behind these, there is shutter speed, AE mode, AWB map, that face icon (still no idea), antibanding to get rid of those annoying lines when you photograph a television, backlight correction and finally the option to shoot in RAW.
Mercifully, the very last icon is simple - it resets the mess you've just made back to default.
Cramming so many options into a phone camera with a dodgy user interface is going too far and will almost certainly result in you taking ruined photos without understanding why.
One of the more useful features is a burst mode that can snap 10 photos in less than a second, which is perfect for trying to grab a shot of sport or something fast-moving.
Once you've restored everything to default and kept well away from the settings drawer, taking a photo is done with either an on-screen icon or a two-stage button on the right edge of the phone.
Press halfway and the camera auto-focuses, then press fully down to take the photo. We always prefer two-stage buttons then a regular one, but the San Diego's feels like it is recessed too deeply into the phone, and requires a firm press to work.
We've included some photos taken with the San Diego at the end of this review. The images produced are a little washed out, with colours looking pale instead of being more deeply saturated.
Otherwise, the quality is good enough for the £200 price, but we'd rather Orange had opted for a lower megapixel count and looked at improving other aspects of the image sensor and lens - and completely change the overwhelming and confusing interface.
Orange San Diego: Verdict
The Orange San Diego might look a bit generic and have a camera application that you could get lost in for days, but considering the £200 price tag, we think it represents a solid starting point for Intel's journey into smartphones.
Its snappy Intel processor and sturdy - if slightly bland - design make the phone a worthwhile investment for those who want a powerful smartphone, but don't need a huge screen or who can't justify spending twice the price on something like an iPhone or Samsung Galaxy S3.
The screen is also fantastic, and is every bit as good to the casual eye as phones costing more than twice as much.
Missing out on Android 4.0 (Ice Cream Sandwich) at launch is a shame, but we're expecting Orange to release an update for the San Diego in the near future, presumably once the carrier has injected it with more orange-coloured icons and wallpapers.
And while people in the technology industry may go on about Ice Cream Sandwich this, and Jelly Bean that, for the average user one version of Android is the same as the next, and therefore it won't be a factor in their decision making.
Buying an own-brand phone might not be for everyone, but with the backing from Intel, Orange has produced a very good phone at a competitive price.
Scores:
Screen: 9/10
Design: 6/10
Camera: 7/10
Operating System: 7/10
Build Quality: 8/10
Overall: 8/10
The Good:
High-quality, HD screen
Sturdy and well-built
Fast processor
Great value
The Bad:
Bland, unimaginative design
Orange user interface isn't for everyone
No microSD card slot
Sample photos