Google has followed Apple by launching a laptop featuring the new USB Type C ports with the updated Chromebook Pixel featuring the same high resolution 13in screen but adding voice control and a lower price of £799.
Chromebook Pixel 2 specs
Intel Core i5/i7 (Broadwell)
32GB/64GB storage
8GB/16GB RAM
12.85in display (2560 x 1700)
Touchscreen & voice control
15.3mm; 1.5kg
2 x USB Type C
2 x USB 3.0
SD card reader
Price: £799
Release Date: "Coming Soon"
Google's original Chromebook Pixel was launched just over two years ago and was designed to show off the best of what Google's Chrome operating system could do. Google has also launched a new online Store where it will see devices built with Google such as its Nexus range of smartphones and tablets and its Chromecast streaming dongle.
Google's updated Chromebook is launched the same week that Apple announced its new Macbook, a 12in laptop which features a Retina display and a USB Type C port which replaces power, video and traditional USB ports.
USB Type C is seen as the future of connectors on laptops, enabling multi-device charging, as well as high-speed data and display over the same connector and cable. Google has however also included two traditional USB 3.0 ports.
Google's original Chromebook Pixel was priced at £999 but the updated model will cost £799 for the base model and £999 for the higher spec version when it goes on sale. Google's blog post announcing the laptop says the new Chromebook Pixel is on sale now in the US, but on the UK version of the new Google Store at least it says "Coming Soon".
Voice control
As well as featuring a touchscreen, keyboard and touchpad, users will be able to interact with the Chromebook using their voice, by simply saying the phrase "OK Google" which is a feature taken from the company's Android operating system used on smartphones, tablets and smartwatches.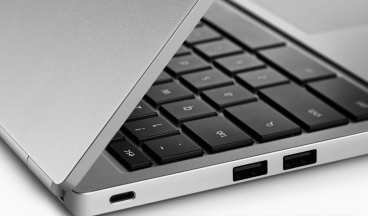 Google is selling the Chromebook Pixel 2 in two configurations. One features Intel's latest Core i5 processor (codenamed Broadwell) paired with 8GB of RAM and 32GB storage. The higher spec model - dubbed LS for "Ludicrous Speed" apparently - will come with a Core i7 processor , 16GB RAM and 64GB of flash storage.
Google promises 12 hours of battery life from the new Chromebook Pixel and it has even added a fast charge mode to allow you get two hours of use from just 15 minutes charging.
Unlike Apple's Macbook however, the new Chromebook Pixel is now designed to sell in huge numbers. At last month's Team Work 2015 conference, Google's Renee Niemi said the new laptop would be aimed at developers:
We do have a new Pixel coming out and it will be coming out soon. We will be selling it but I just have to set your expectations: this is a development platform. This is really a proof of concept. We don't make very many of these — we really don't. And [...] our developers and our Googlersconsume 85% of what we produce. But yes, we do have a new Pixel coming out.
Google Store
The launch of the new Google Store comes in the same week as Google launched a world-first offline retail experience in central London with its own branded space within a PC World store.
As well as Chromebooks and Nexus devices, Google will also be promoting its Nest range of connected home products as well as its own apps and services like maps, YouTube and search.
The store will be available through browsers as well as through apps on smartphones and tablets.