Apple has announced the launch of a 12-inch MacBook with Retina display, which at 13.1mm wide is the thinnest laptop the company has ever created.
"Can you even see it? I can't even feel it," said Apple CEO Tim Cook, while holding the device on stage at Apple's Spring Forward event in Cupertino, California.
The new MacBook, described by Cook as the "world's most energy efficient notebook", fits in between the firm's current 11-inch and 13-inch versions of the MacBook.
"It is the most extreme and efficient notebook we have ever created, " said Phil Schiller, head of marketing at Apple. "It absolutely looks gorgeous from every angle.
"Every component of the MacBook reveals a new innovation. From its fanless design, ultra-thin Retina display and full-size keyboard that's 34 percent thinner, to its all-new Force Touch trackpad, versatile USB-C port and breakthrough terraced battery design, the new MacBook is the future of the notebook."
The device weighs less than 1kg, and at 13.1mm at its widest point, it is 24% thinner than its 17.3mm predecessor.
The MacBook also features an all new keyboard, replacing the scissor mechanism with something called a butterfly mechanism that is four-times more stable, while being 40% thinner.
"This reinforces the keyboards balance and stability," said Jony Ive, head designer at Apple, via video.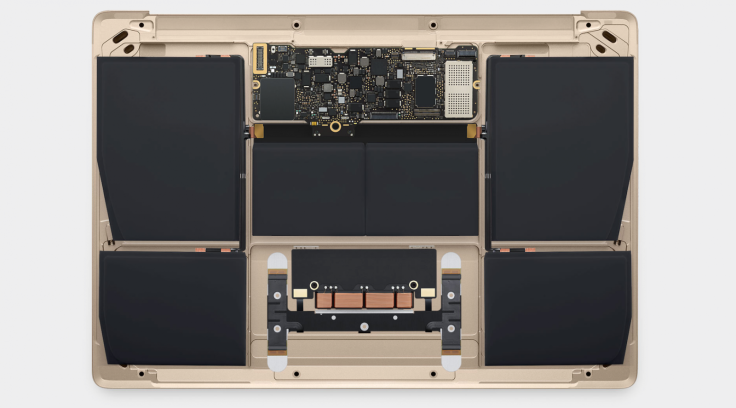 The all-new MacBook will begin shipping from 10 April through the Apple Online Store and Apple's retail stores and like many other Apple products, the device comes in silver, space grey and gold..
A £1,049 version of the new MacBook comes with a 1.1 GHz dual-core Intel Core M processor, 8GB of memory, 256GB of flash storage and Intel HD Graphics 5300.
A version with 1.2 GHz dual-core Intel Core M processor, 512GB of flash storage and Intel HD Graphics 5300 will be available for £1,299.