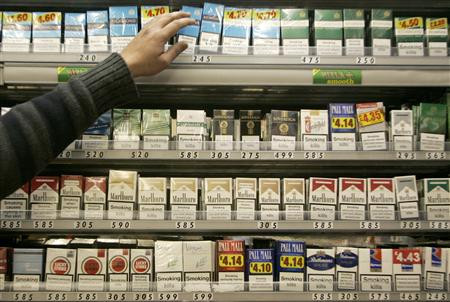 Despite ad campaigns featuring images of rotting lungs and crumbling teeth, Europe continues to have the highest smoking rate in the world.
Iceland is the latest country to take tougher measure aiming at reducing the smoking rate by considering a rather radical action by proposing prescription-only cigarettes.
Under the proposed legislation, only those with valid medical certificates will be permitted to buy cigarettes from pharmacies.
"I think Iceland can be a test tube to try out progressive things because we are a small country and we don't have a massive lobby for tobacco," said Thorarinn Gudnason, a cardiologist at Landspitali University Hospital in Rejkyavik. "We are taking care of people who are dying of this disease in their 40s and we're fed up with it."
Iceland's smoking rate is already one of the lowest in Europe. Just 15 per cent of the population smokes compared to an average of 31 per cent across the continent.
However, worryingly, the rate is particularly high amongst young people as 20 per cent of children and teenagers smoke and the prescription cigarette law advocates say they hope the new plan will dramatically reduce that figure and cut overall smoking rates to less than 10 per cent.
Initiated by doctors and backed by the country's former health minister Siv Fridleifsdottir, the plan would take cigarettes out of the usual kiosks and supermarkets and make them available only in pharmacies.
The cost of cigarettes (currently about 1000 Icelandic kronur or $8.30 Canadian) would increase by about 10 per cent annually, a strategy that has been proven to reduce smoking rates elsewhere.
Tobacco and nicotine would be classified as addictive drugs and second-hand smoke would be treated and controlled like other carcinogenic substances while smoking in public places such as parks and in cars with children would be outlawed.
Eventually, smokers who are unable to kick the habit through treatment and various addiction programs or simply refuse to quit may get a prescription for tobacco from their doctors. Once cigarettes become available only through physicians, the price will go down again as supporters of the law say it would be unfair to tax those unable to quit.
"Tobacco is very addictive and we would recognize them as addicts," said Ms. Fridleifsdottir.