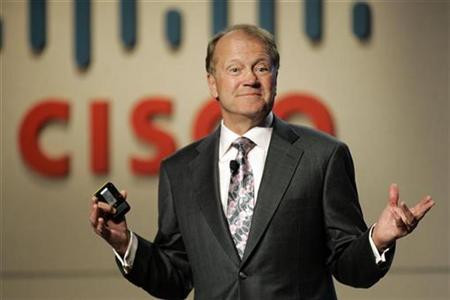 Cisco Systems (Nasdaq: CSCO), the No. 1 provider of Internet equipment, plans to create 12,000 technology jobs for Israeli Arabs over a span of four years as part of an initiative to promote Arab recruitment in Israel's high-tech sector.
Israel President Shimon Peres and Cisco CEO John Chambers made the announcement on Wednesday at the Presidential Conference in Jerusalem.
The announcement was part of the expansion of "Ma'antech," a project launched by major high-tech companies with the support of Peres in February 2011.
The project is aimed at addressing the problems of less representation of Israeli Arabs in the country's employment sector.
"We have an opportunity to show the rest of the world what we can do together with a government that really gets it and with citizens who really get it. If we can move to 12,000 (new employees) within four years, it would be an indication of what's possible," said Chambers.
"This [new recruitment] will also be good for the economy and for Israel... Just think what 12,000 extra people would do to GDP growth in this country," he added.
Appreciating the efforts of the companies in opening up to Arab youths, Peres said the companies have bridged the gap between the communities that no politician could do so far.
"No government or policy could do it. You need the companies. This is the way to pave to peace," said Peres, a Nobel Peace prize winner.
"Technology is the means, the goal is the human being," he added.
Ma'antech is a project operated jointly by recruiter Manpower and NGO Kav Mashve. Nearly 22 high-tech companies including IT majors such as Intel (Nasdaq: INTC), Microsoft (Nasdaq: MSFT), IBM (NYSE: HPQ) and Hewlett-Packard Co. (NYSE: HPQ) have employed Arabs under the program. Cisco is the major funder.
Arabs constitute nearly one-fifth of Israel's population. Though the community enjoys full citizenship rights, they are poorly represented in the job and housing markets.
Several new companies joined the initiative on Wednesday including OnTarget, Bezeq (Pink: BZQIF), Teldor and Cadence Design Systems (Nasdaq: CDN).
Shares of Cisco, of San Jose, Calif., rose 9 cents to $10.62 in Friday trading.