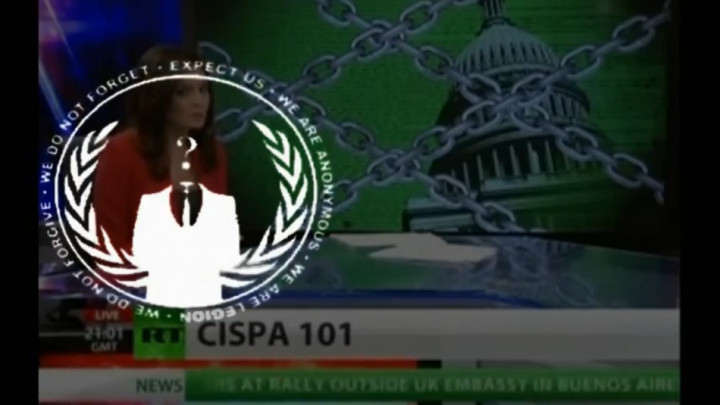 The US House of Representatives has passed a controversial cybersecurity bill that would permit the US government to strengthen security networks against cyber attacks and authorise companies to share confidential customer records and communications.
A bipartisan majority approved the Cyber Security Sharing and Protection Act, or Cispa by a vote of 248 to 168. If the bill clears the Senate as well, it will enable businesses and the government to more easily share cyber security information.
Congressman Mike Rogers, a Republican representative from Michigan and chairman of the House Committee on Intelligence, had previously warned of the cyber threat posed by foreign countries and terrorist organisations to American infrastructure and private businesses.
He urged approval of Cispa, claiming the bill would not allow the government to censor information, close down websites or spy on people, as feared by civil rights activists. "If we don't do this, I am fearful about the future of our economic prosperity in America," Rogers said.
Rogers's key Democratic ally, Maryland representative Dutch Ruppersberger, lobbied to persuade fellow Democrats to also back the bill.
"We worked it. We worked it hard, we contacted people personally. Many people I talked to just on the floor," Ruppersberger said after the bill passed. "This [issue] is very complicated; a lot of people didn't understand it."
Privacy Concerns
But many politicians opposed the bill over concerns for privacy.
Cispa would "waive every single privacy law ever enacted in the name of cyber security," said Jared Polis, a Democratic representative from Colorado. "Allowing the military and National Security Agency (NSA) to spy on Americans on American soil goes against every principle this country was founded on."
Critics claim that the legislation contains few restraints on how and when the government may monitor private information and that it could end up damaging file sharers, rather than halting foreign spies or hackers.
They are particularly concerned about a section that states "notwithstanding any other provision of law", companies may share information with Homeland Security, the Internal Revenue Service, the NSA, or other agencies. The word "notwithstanding" means that all existing federal and state laws, including ones dealing with wiretaps and medical privacy, could be trumped under Cispa.
Anonymous Angry
The Anonymous hacking collective released a video on YouTube attacking the bill and urging American citizens to sign a petition against it.
"Together, we can stop this act," the group says in the video. "The time to take action is now. We have defeated previous attempts to censor our only platform of true honest communication, the internet. Sopa was only the beginning.
"Sign petitions, call your congressmen and kill this act in the Senate."
To protest against the bill, the collective pledged to bring down the website of Intel and other companies that back Cispa. With another video on YouTube, the collective announced phase two of Operation Defense, an initiative to fight the bill.
Boeing was among the companies targeted in phase one.
According to the collective, phase two will begin in two weeks and will include demonstrations in the streets.
"Attacks will not be limited to distributed denial of service attacks," the video says. "Phase two will commence on 1 May and will include coordinated physical protests outside locations belonging to the corporations."
Obama Opposes Bill

The Obama administration had previously expressed reservations about Cispa, stepping forward to protect privacy over security.
"While information-sharing legislation is an essential component of comprehensive legislation to address critical infrastructure risks, information-sharing provisions must include robust safeguards to preserve the privacy and civil liberties of our citizens," National Security Council spokeswoman Caitilin Hayden said.
"Legislation without new authorities to address our nation's critical infrastructure vulnerabilities, or legislation that would sacrifice the privacy of our citizens in the name of security, will not meet our nation's urgent needs."
A Like on Facebook
Unlike the Stop Online Privacy Act (Sopa), which was defeated by a broad alliance of internet user-generated content companies, Cispa enjoys the support of more than 30 major private companies such as Facebook, Microsoft, Intel, IBM, US Telecom, AT&T and Symantec.
Facebook, which was at the forefront of opposition to Sopa, is now one of Cispa's staunchest supporters.
Joe Kaplan, the company's vice president of US public policy, recently issued an open letter justifying his support for the bill. "One challenge we and other companies have had is in our ability to share information with each other about cyber attacks," he said in the letter.
"When one company detects an attack, sharing information about that attack promptly with other companies can help protect those other companies and their users from being victimised by the same attack."
The bill now heads to the Senate, after which it will go before the president and could be vetoed.
"Once the government gets expansive national security authorities, there's no going back," Michelle Richardson, legislative counsel for the American Civil Liberties Union, said after the House vote. "We encourage the Senate to let this horrible bill fade into obscurity."
For further news on Anonymous's recent activities, check out the IBTimes UK's Cyber Warfare section.
Anonymous News
MUST READ: Anonymous Hacker Anonw0rmer: Unmasked By Embedded Data, Not Girlfriend's Breasts