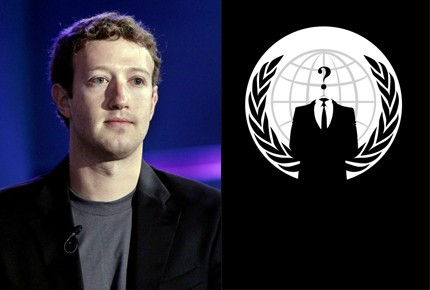 The Anonymous hacking collective has pledged to bring down the website of Intel in protest at an anti-piracy bill that would permit the US government to strengthen security networks against cyber-attacks.
Anonymous called its members to launch a Distributed Denial of Service attack against the computer firm, but the company's website appeared to be still online.
With a video posted on YouTube, the collective announced Phase Two of Operation Defense, an initiative to fight the proposed Cyber Intelligence Sharing and Protection Act (Cispa), which has already drawn criticism from advocates of internet privacy and security experts.
"Phase I of Operation Defense is running smoothly," says the video. "We've managed to disable most of our targets. Our targets include any corporation involved in the support of the Cyber Intelligence Sharing and Protection Act and those who were responsible in creating it."
Boeing was among the companies targeted in Phase I.
According to the collective, Phase II will start in two weeks and will include demonstrations in the streets.
"Attacks will not be limited to Distributed Denial of Service attacks," says the video. "Phase II will commence on May 1 and will include coordinated physical protests outside locations belonging to the corporations."
Intel is one of the 30 private companies that have backed Cispa, which will enable businesses and the government to more easily share cyber-security information. Critics claim that the legislation contains few restraints on how and when the government may monitor private information, and that it may be likely to damage file sharers rather than foreign spies or hackers.
The list includes tech and IT companies such as Edison Electric, Microsoft, Facebook, IBM, US Telecom, Verizon Wireless and Symantec as well as communications and phone firms and associations such as the National Cable & Telecommunications Association, AT&T and Comptel.
"This so-called cyber-security bill aims to prevent theft of 'government information' and 'intellectual property' and could let ISPs block your access to a website - or the whole internet," civil rights organisation Demand Progress said.
"Cispa also encourages companies to share information about you with the government and other corporations.
"That data could then be used for just about anything - from prosecuting crimes to ad placements. And perhaps worst of all, Cispa supersedes all existing online privacy protections."
Cyber-activists fear the law would be as pernicious as Sopa, the Stop Online Privacy Act, which was withdrawn by the White House and the US Senate after a mass protest by hundreds of major user-generated content websites.
"Cispa is likely to lead to expansion of the government's role in the monitoring of private communications," said the Centre for Democracy and Technology.
"Cispa is likely to shift control of government cyber-security efforts from civilian agencies to the military. Once the information is shared with the government, it wouldn't have to be used for cyber-security but for other purposes."
Anonymous had previously attacked two technology firm associations for supporting Cispa. TechAmerica and US Telecom confirmed they were targeted with a Distributed Denial of Service (DDoS) assault by the collective.
"By launching a cyber-attack in an effort to coerce, intimidate and stifle speech, members of Anonymous are acting contrary to the very freedoms and internet norms that they espouse," Walter McCormick, president of US Telecom, told Bloomberg.
Shawn Osborne, TechAmerica's president, said: "These types of strong-arm tactics have no place in the critical discussions our country needs to be having about our cyber-security, they just underscore the importance of them."
For further news on Anonymous's recent activities, check out the IBTimes UK Cyber Warfare section.
MUST READ: 'Operation Cannabis': Anonymous Calls for Legalising Marijuana on 20 April [VIDEO]