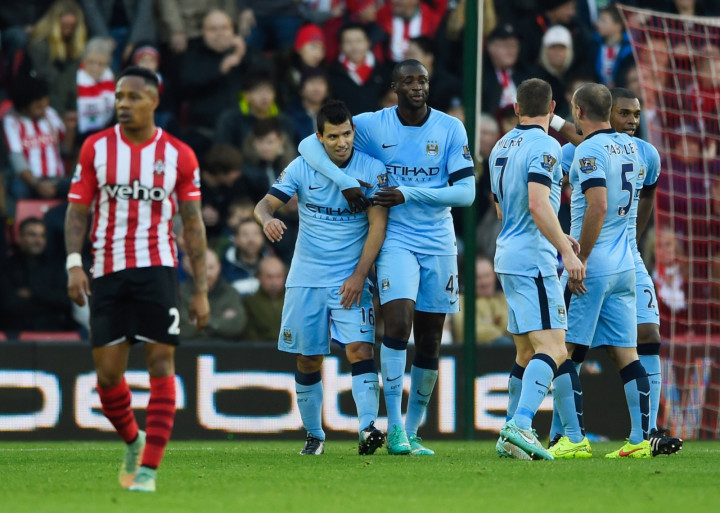 Manchester City are well and truly back in the title race after the side defeated Southampton 3-0 in stunning fashion.
The in-form Saints were given a big chance heading into the match but City showed qualities of their last title-winning season as they shut down the surprise success side, with Yaya Toure, Gael Clichy and Frank Lampard sealing victory with goals in the second half.
After Chelsea suffered a shock 0-0 draw with Sunderland on Saturday night, City were able to cut five points off their lead at the top of the table by the end of the weekend and the title holders now sit just six points behind Jose Mourinho's men.
Southampton were handed a masterclass by City and despite Sergio Aguero being off-target on a few occasions in his 100th Premier League appearance he was still an important part of the squad, setting up the first goal with Toure in the 51st minute as he drilled home a strike and then again for Gael Clichy.
The match was not without controversy with City finishing with 10 men due to a red card being handed to Eliaquim Mangala for two successive yellows. At that point, on the 74 minute mark, City were only up 1-0 and it appeared Southampton had been handed a lifeline.
But Lampard shocked the home fans just six minutes later with a shot from the edge of the area that went straight past Saints keeper Fraser Forster and Clichy, scoring his first goal for the club, effectively shut the game down on 88 minutes after successfully converting Aguero's assist.
Lampard said after the game: "We all look at tables during the week, and we are disappointed with where we are for a club like City, but we have to keep winning, keep moving forwards and go game by game."
Aguero was also booked for diving in an incident where he appeared to have clearly been fouled in the box, and Manuel Pellegrini revealed his frustration with the situation after the match.
"I am very pleased," he explained. "We beat a very good team. They were second in the table and deserved that position. We played a very good game it was important to have a clean sheet again, they had just one chance in the 90 minutes and that is important for the trust in our team, and to score three goals against the best defence is also very important.
"I told the referee he must decide if it is a penalty or not, I was sure it was not a yellow card. I know [Sergio Aguero], he does not try to cheat the referee. But after it was important to open the game, it was close in the first 45 minutes and we continued working as a team in defence and attack until we scored."