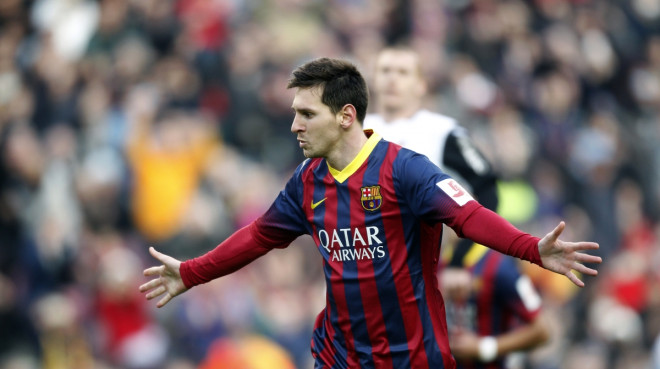 Manchester City are reportedly ready to meet Lionel Messi's £400,000-a-week wage demands to secure the Argentinian's services in the summer, while Barcelona appear unlikely to offer him that amount.
Both Messi's representatives and Barcelona have repeatedly insisted they want the player to remain at the Nou Camp, but negotiations over a new contract have stalled and reports in Spain suggest City are trying to take advantage of the situation to secure his services at the end of the season.
Last month Spanish newspaper El Confidencial reported that City were set to pay a record-breaking €200m for Messi's services and since then the speculation about his future has continued unabated.
Earlier this week AS reported a huge disparity between the player's demands and the Blaugrana's offer, with Messi asking for £21m a year (around £400,000 a week), £7.5m more than he currently gets.
El Confidencial now reports that City are not only ready to pay Barcelona £200m for Messi's services, they are also happy to meet the Argentinian's salary demands by offering him a £21m a year contract.
Even though City manager Manuel Pellegrini recently claimed that signing Messi is impossible, El Confidencial insists that they have been monitoring his situation since last summer.
According to the reports in Spain, Messi is upset with Barcelona's bosses because, even though it is not official, he believes that summer signing Neymar has overtaken him as the squad's best-paid player.
Nevertheless, Barcelona's media vice-president Manel Arroyo claimed earlier this week that they will do everything to convince Messi to stay at Barcelona.
"Messi said his desire is to retire at Barcelona and we will make every effort to get Messi to complete his career at Barça. In fact we are grateful for his new record as the top scorer in the club's history and we have reinforced this commitment to ensure his stay.
"Barcelona president Bartomeu already said that he has talked with Messi's father and they are currently negotiating."